Principled Technologies Compares VM Migration Between Intel Processor-Based Servers and Between Servers Based on Different Processor Architectures
In hands-on testing, Principled Technologies (PT) found that migrating a VM from an Intel Xeon processor-based server to an AMD EPYC processor-based server required downtime.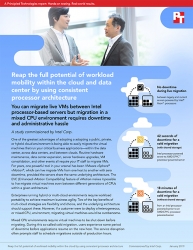 Durham, NC, March 18, 2019 --(
PR.com
)-- For businesses that rely on various types of cloud environments to run their applications, the ability to move VMs to one server to another offers flexibility that supports business agility. Technologies such as VMware vSphere vMotion enable live migration of VMs with zero downtime, as long as the servers share the same underlying architecture. When migrating between servers powered by processors with different architectures, the only option is to shut down the VM before migrating it.
In hands-on testing, PT migrated VMs in a homogeneous environment of servers powered by current and older Intel Xeon processors and in a heterogeneous environment consisting of both Intel Xeon processor- and AMD EPYC processor-based servers. Live migration of VMs in the former environment was seamless with no service interruption, while "cold migration" of VMs in the mixed CPU environment incurred downtime, which would require planning and place a burden on administrators.
According to the report, "If your company selected servers powered by the AMD EPYC processor, you would not be able to carry out live migrations between existing servers powered by Intel processors and the AMD processor-based servers. The data center would, in effect, have two separate pools of servers and the mobility of VMs would remain limited for the life of those servers."
To learn more, read the report at
http://facts.pt/8zysd88
, the summary at
http://facts.pt/wq2otq2
, or the infographic at
http://facts.pt/sa1txso
.
Contact
Principled Technologies, Inc.
Jasmine White
919-941-9812
http://www.principledtechnologies.com/

Contact