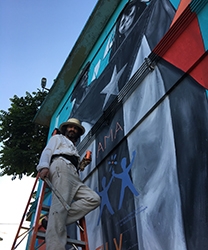 Cayey, PR, December 03, 2018 --(
PR.com
)-- Noted Southern California artist Alexey Steele unveiled new Love My Neighbor symbol designs by his newly founded company "Sculptoglyph" at The World 2018 Omai Goodness Tour 7th International Convention "Puerto Rico."
Love My Neighbor is an innovative multi-year public art project developed and executed by Alexey Steele in the City of Carson, California in a close collaboration with the City of Carson. The goal of the project is to introduce into our contemporary society a unifying Love My Neighbor message through compelling images and stories of the beloved and inspiring diverse neighbors who serve as unique binders for local community. Alexey made the focus of his 2016-2018 work the notorious Carson neighborhood of "Scottsdale," one of the most troubled and difficult of Carson communities.
Alexey Steele and his public art project are credited by local activists and public officials for playing a significant part in "Scottsdale" community turn around.
"Our city-sponsored, innovative, multi-year, public art project 'love My Neighbor', developed and implemented by Carson artist Alexey Steele, has had an immesuarble impact on Carson, and in particular the troubled and difficult 'Sscottsdale' neighborhood. It has become an important factor in the neighborhood's effort for transformation," said Carson Mayor Albert Robles.
In 2018 in collaboration with Bank of America volunteer team and The City of Carson Alexey Steele conceptualized and launched Love My Neighbor Day centered around outreach programs of his Love My Neighbor public art project.
The Love My Neighbor public art project and its various outreach programs are funded through grants by the City of Carson, Wells Fargo Bank, California Arts Council and Rand Resources, LLC.
Alexey Steele was invited along with representative of the City of Carson Idris Al-Oboudi to participate in The World 2018 Omai Goodness Tour 7th International Convention "Puerto Rico" as part of the group of international artists and activists representing 27 countries. Alexey and Idris shared their Carson experience and knowledge on using art as social action and as a tool of community turn around with the "Love My Neighbor" public art project.
Alexey Steele's Carson public art project theme and title "Love My Neighbor" was selected as the theme and title of the joint mural that was completed by a group of leading international mural painters participating in the conference to show solidarity by the international art community with the heroic effort of Puerto Rico people overcoming the devastation of Hurricanes Irma and Maria. The joint "Love My Neighbor" mural was completed and presented during the conference in the hard hit by the disaster rural Cayey province of Puerto Rico. Alexey Steele had designed the central section of the mural and directed its execution.
As part of his design Alexey unveiled the new iconic symbol for his "Love My Neighbor" campaign. The symbol was developed by Alexey's newly founded design company "Sculptoglyph." The "Love My Neighbor" message was translated into Spanish as Ama A Tu Vecino and included into a design.
The international artists team that completed the mural included The World 2018 Omai Goodness Tour 7th International Convention "Puerto Rico" organizer, artist Benjamin Swatez, leading master mural painter from Mexico Ernesto Rios Rocha, Bolivian artist Areli Ribero and American artist Jowanne Tawfilis. The community team of local students from Benjamin Harrison Vocational High School of Cayey participated in mural execution and was led by the Puerto Rico artist and teacher Sheila Rios.
About Sculptoglyph
Sculptoglyph is a design studio providing a range of conceptual solutions in fashion, art and architecture.
It is built on a belief that society which loses shared ideals seizes to exist.
It aims to address the need for commonly shared goals and principles despite all the differences, developing the credible, compelling and unifying message that can be shared across multiple platforms to enter collective consciousness.
Sculptoglyph understands the role of art as an applied force, investigating various aspects of the effect an artistic image can excerpt on society and aims to achieve these goals through developing and implementing specific imagery in the fields of fashion, art and architecture.
About Alexey Steele
Alexey Steele is LA based visual artist known for his large-scale figurative works, public art projects, portraits and landscapes. Content and function of art within society play important part in Alexey's views on making art, relevant in our contemporary world. Following in the tradition of his father, renowned Soviet artist Leonid Steele, Alexey is a proponent of art as an active tool of social action and community engagement in a form of public art.
In collaboration with 501 ( c )3 Artward Initiative in 2017 Alexey Steele founded the non-profit Artward! Gallery "Scottsdale" to directly engage the most underserved community of Carson, California with his inspiring Love My Neighbor public art project.
The process of creating the artwork right there on-site in the series of live sessions open to public became a unique way of community engagement that never happened there before. It opened the door into the community and built the trust with the residents of this difficult neighborhood, created the opportunity for continuous engagement in this notoriously hard to set foot in community.
Alexey Steele's work participated in numerous museum exhibitions, was distinguished by being featured on museum banners as well as in two Rizzoli published books and was subject of multiple magazine and news paper articles.
Alexey Steele is a founder of critically acclaimed multidisciplinary Classical Underground project. He had contributed to "Soviet Impressionism" book by Dr. Vern Swanson. Alexey Steele is a winner of the 2009 Gusi Peace Prize in the Philippines and as part of celebration was received by the President of the Republic.
About The World 2018 Omai Goodness Tour 7th International Convention "Puerto Rico"
OMAI
OMAI (Organisacion Mundial de Artistas Integrados) is and international art association founded in 2012 by artists from seven countries. Multiple international art exhibitions are held throughout the Americas every year as well as the annual international that focuses on intercultural dialogue, utilizing creativity to build peace bridges between borders.
The Goodness Tour
The Goodness Tour is a non-profit organization dedicated to bringing free music and art experiences to people facing adversity all over the world. The tour travels to refugee camps, disaster zones, homeless shelters, hospitals, handicap centers, youth crisis shelters and anywhere that humans are in need of psycho-social support and a positive outlet for expression.