SolarCraft Completes Solar Power Installation at Sonoma Community Center - Local Community Center Goes Solar & Saves
Novato and Sonoma based SolarCraft recently completed the installation of an 87 kW DC solar installation at Sonoma Community Center in Sonoma, CA. The photovoltaic (PV) system is expected to offset over 70% of their utility bills, helping the Center save over $26,000 in electrical costs every year.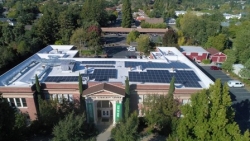 Novato, CA, December 04, 2018 --(
PR.com
)-- Designed and installed by SolarCraft, a leading North Bay solar installer for over 35 years, the solar photovoltaic system is roof mounted and designed to produce 120,271 kilowatt hours annually. The Sonoma Community Center is taking a leadership role in sustainability, contributing to the community's environmental and economic health, providing a cleaner energy future for years to come. Not only are they lowering their carbon footprint, but they are easing pressure on the local power grid.
"The Sonoma Community Center is proud to partner with SolarCraft in updating our building with the newest solar technology while preserving its important historic character. The entire installation from start to finish went very smooth and SolarCraft's team did a fantastic job keeping us updated throughout every phase of the project," according to Josh Cutler, the Center's Director of Operations. "One of our goals at the Center is to promote sustainable and green initiatives, incorporating renewable energy through our new solar installation is an important step for the Center in demonstrating opportunities for sustainable solutions in the Sonoma Valley."
SolarCraft offers unique financing options specifically for non-profits, which eliminates high upfront costs. The finance payments are typically less than paying PG&E, so the projects are saving money immediately. Along with reducing their own carbon footprint, nonprofits can be leaders in educating their partners and clients about the importance of environmental conservation.
During the life of the system, almost 5 million pounds of carbon dioxide generated by the Sonoma Community Center's operations will be eliminated. This impact is equivalent to removing air pollution produced by more than 7.5 million miles of driving over 25 years or the pollutants removed by 40 acres of trees in one year.
About Sonoma Community Center
Art, education, and community are the three areas that the Sonoma Community Center strives to house. The Center's home, the old Sonoma Grammar School, has been designated as a National Historic Landmark. Built in 1916, the building has been a vital resource in Sonoma for a myriad of fantastic classes and organizations. Today, the Community Center serves offers its rooms to programs ranging from game nights, to language and culinary classes.
SolarCraft is 100% Employee-Owned and one of the largest green-tech employers based in the North Bay for over 35 years. SolarCraft delivers Clean Energy Solutions for homes and businesses including Solar Electric, Solar Pool Heating and Battery / Energy Storage. With over 7,000 customers, our team of dedicated employee-partners is proud to have installed more solar energy systems than any other company in the North Bay.
www.solarcraft.com
.
Contact
SolarCraft
Kim Burnett
415-382-7717
www.solarcraft.com

Contact