Ask My Buddy Co-founder Wins Prestigious AARP Fellowship
Pat Coggins honored for revolutionary personal assistance service.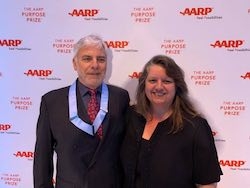 Boca Raton, FL, December 07, 2018 --(
PR.com
)-- Ask My Buddy, Personal Alert Network, a platform for providing users with a voice-activated assistance network, announced today that its Co-founder, Pat Coggins, was awarded a 2018 AARP Purpose Prize Fellowship Award at its annual Prize Ceremony at The United States Institute Of Peace in Washington, DC on December 5, 2018. Honoring the concept that making a difference doesn't stop as you age, AARP acknowledges the millions of older adults using their experience to give back, to solve problems, and to change lives. The AARP® Purpose Prize® and Fellowship awards honor extraordinary individuals who use their life experience to make a better future for all.
Mr. Coggins' experience and knowledge prepared him to recognize that with the advent of voice platforms such as Amazon's Alexa, he could solve a real problem for people of all age groups. Ask My Buddy, Personal Alert Network, is a free "skill" available on Amazon Alexa, Google Home / Assistant, and Microsoft Cortana voice platforms. Ask My Buddy enables voice services such as these to send a "check on me" notification to a user's Personal Alert Network, just by speaking.
Ask My Buddy is not a substitute for 911 but rather an additional tool offering the security of knowing help is just a shout away. When a user says, "Alexa, Ask My Buddy to Send Help," a "Please check on me" request is immediately sent to the people on the contact list by text message / SMS, an email, and a voice telephone call, all with one command.
"There are many tools available for summoning help," Coggins acknowledges, "but the most valuable alert method is the one that is accessible when needed. In many cases, valuable time is lost due to the fear of calling 911 until it is too late because of the uncertainty if the urgency will pass. While dialing 911 for emergency services is always recommended, many won't for fear of being billed for it," he added. "Hip fractures are one of the most serious types of fall injury and are very immobilizing. If the person is not carrying a phone, or a medical device at the time and location of their fall, they will very likely be stuck on the floor until a friend or neighbor checks on them."
Personal Emergency Response (PERS) devices are popular, however it is reported that the majority of push button devices are never activated for a variety of reasons. Monitoring companies require surprisingly high fees for these PERS devices, while Ask My Buddy provides this basic service for free. Since Ask My Buddy uses one's own contacts such as friends, neighbors, loved ones and even security, front desks, or management offices, it is less ominous to invoke the service and receive the needed assistance.
Moreover, the fear of falling, even without ever actually falling, has its own serious consequences. Seniors who fear falling may restrict their activity. This, in turn, creates premature physical and functional decline, which in turn increases their risk for falls. There is significant benefit combining the security of a voice activated alert system with the incredible variety of possible ways to interact with voice technology as a whole. Users can use the same device and method of interaction to play mind sharpening games, set reminders or alarms, listen to the radio, news broadcasts, or even audible books. Many users even consider the voice device to be a companion and member of the family.
"We believe this functionality and personification of the voice platform provides a sense of security, companionship, and well being in the user, which is more valuable than any one product," Coggins concluded. "The fact that the Ask My Buddy service was acknowledged by AARP in their 2018 Awards just tells us that our efforts to make a difference in people's lives are being noticed and that feels very rewarding indeed."
https://www.aarp.org/about-aarp/purpose-prize/fellows/info-2018/patrick-coggins.html.
Further information can be found on the Company's corporate website: https://www.askmybuddy.net
About Ask My Buddy
Ask My Buddy, Personal Alert Network is a free service that leverages Amazon Alexa and Google Home Voice Platforms to connect our 138,000+ users to their Personal Alert Network using only their voice. The service is designed for ease of use by all customers, and is a favorite of senior and mobility challenged individuals. Ask My Buddy is not a substitute for 911, but rather an additional tool for those trying to preserve their independence, offering the security of knowing help is just a shout away.
Release dates:
Nov 13, 2015 - Amazon Alexa (first 30 skills)
Jan 5, 2017 - Google Home
May 10, 2017 - Microsoft Cortana
Contact
Ask My Buddy
Sheryl Coggins
860-602-8339
www.askmybuddy.net

Contact