The Phillips Screw Company Announces the Introduction of Red Seal Moisture Barrier Concrete Screw Kits
Even a single drop of moisture, over time, can cause huge structural failures of concrete. Water that freezes or grows mold inside of a pre-drilled hole, can cause both the fastener and the concrete to weaken and ultimately fail. Introducing Red Seal Concrete Screw Kits. Red Seal provides a simple and unique solution to concrete moisture protection.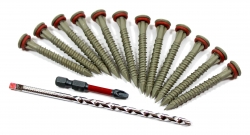 Wakefield, MA, January 15, 2019 --(
PR.com
)-- The Phillips Screw Company today announced the introduction of their newest product line, Red Seal™ Moisture Barrier concrete screws kits. The Red Seal™ line is a specialty concrete screw specifically designed for moisture barrier protection. Phillips created these products in response to a growing demand for a better way to keep water out of concrete.
The heart of Red Seal™ is a feature called Angel Wings™. Angel Wings™ are ribs that protrude from underneath the head that serve to both clear away debris as well as allow the pre-installed silicon washer to fully seat in the pre-drilled hole, preventing moisture from entering. Additionally, all Red Seal™ products have Stick-Tight™ which is Phillips patented drive system which allows for stable, 1-handed, anti-wobble installation. This is a non-magnetic drive system that was developed by Phillips to work with both their patented driver bit but also backwards compatible with both a regular #2 Phillips as well as a #2 square drive.
"We continue to innovate and create patented products, unique packaging, and innovate distribution methods as a way to offer our customers something different," said Ken Hurley, president and CEO of The Phillips Screw Company. "We think Red Seal is a very unique product that has the potential to offer contractors a simple and convenient way to keep moisture in our out," Hurley went on to say.
Red Seal's™ patent pending design lends itself to light duty, non-structural concrete applications such as the installation of electrical boxes, light switches, hose reels, concrete roofing, or anywhere else it is important to reduce or eliminate moisture. The 1,500-salt spray tested design comes in a 12-count package and is ¼" x 2-1/4". There is both a hex head and a flat head version. Each package also contains a concrete drill and driver bit creating a complete installation kit.
"This is an innovative product and there is nothing else like it on the market," said Hurley. "The future is all about solving problems, and Red Seal does a great job of helping to protect concrete. Even a single drop of water that freezes or grows mold, over-time, can cause huge structural concrete issues, so we believe this simple solution is an affordable investment every contractor should make."
Red Seal was tested extensively in labs both in the US and in Asia prior to launch, and when installed correctly in non-porous concrete and solid surfaces, has zero seepage failures. You can also learn more about Red Seal™ and The Phillips Screw Company by visiting their Amazon listings at:
https://tinyurl.com/ycb38bnt
The Phillips Screw Company is a Massachusetts based manufacturer focused on making tooling for the fastener industry as well as making contractor friendly wood, deck, and concrete screws. You can reach them at
http://Phillips-screw.com
or at 781-224-9750
Contact
The Phillips Screw Company
Todd Ruehs
781-224-9750
lightningfasteners.com

Contact