New Film Dedicated to DACA Dreamers Dramatizes How Life Can be for Them in Mexico
ES Creative Gang, a Multi-cultural Creative Services company and Producer/Director Luis Luna Estrada release "One Night in Mexico" and soon will release "Una Noche en Mexico," a unique film project producing two films simultaneously in English and Spanish, a creative endeavor 15 years in the making.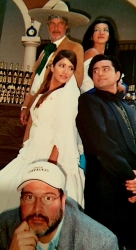 San Diego, CA, January 17, 2019 --(
PR.com
)-- "One Night in Mexico," the English version was released by ES Creative Gang on Amazon Direct Video. "Una Noche en Mexico" the Spanish version is in the process of being released.
"These films are dedicated to the Dreamers in the US, hope they will give an insight to how Mexican Americans may feel about both their countries," said Luis Luna Estrada the films Producer, Director and Writer. "The project didn't start off this way, it was a story based on personal experiences, but as the years passed discovered it had a relevant message," continued Estrada.
The story revolves around Pablo, a first generation Mexican-American, his parents gave him a great education and family life as they assimilated into the lifestyle in the United States.
Pablo's father sends his son to the family's Tequila factory in Mexico in hopes he will understand and appreciate his heritage. "One Night in Mexico" would change his son's life forever.
Cast:
Alex Reymundo, has had specials on Showtime & Comedy Central, ("Red-Nexican" & ALMA Award winning "Hick-Spanic"). Alex has spent years touring with Blue Collar's Bad Boy Ron White & was seen by 6 million viewers on CMT (2011) with Ron White's Salute to the Troops (w/ Lewis Black & Kathleen Madigan). Reymundo was a highlight of P. Diddy's "Bad Boy's of Comedy" and hit the scene as one of "The Original Latin Kings of Comedy" along side Cheech, Paul Rodriguez, George Lopez & Joey Medina.
Monica Muñoz Arruñada was born in in El Paso, Texas. She studied acting in "Centro de Eduacion Artistica de Televisa" for 3 years. She landed her first role in "Amigas y Rivales" (2001).
Hugo Stiglitz, has appeared in scores of crowd-pleasing films from his native country, including "Survive!" (1976) and "Tintorera" (1977), Stiglitz began his career in 1969 and worked steadily throughout the 1970s. His cachet among Mexican audiences and American cult movie fans alike has earned tributes from the likes of Quentin Tarantino, who borrowed his name for Til Schweiger's violent rogue Nazi in "Inglourious Basterds" (2009).
Press, booking, links and general information:
Press Contact: Luis Luna Estrada
Phone: 817 271-5865
Email:
Luis@ESCG.tv
Press kit:
http://www.onenightinmexico.com/credits-media-info/
Website/General information:
www.OneNightInMexico.com
IMDB
https://www.imdb.com/title/tt6337290/?ref_=nv_sr_1
Link to film:
https://www.amazon.com/One-Night-Mexico-Alex-Reymundo/dp/B07MG8XL2G
Contact
ES Creative Gang
Luis Estrada
817-271-5865
www.OneNightInMexico.com

Contact