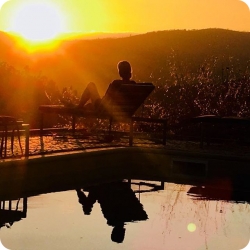 Oleiros, Portugal, January 25, 2019 --(
PR.com
)-- 2019 promises to be the retreat's best year yet, with a full calendar of activities to feed mind, body and spirit. To begin the new year, Sue and Peter are launching
Evolutionary Yoga
; an emerging form of the practice rooted in primal and universal principles. It combines formal disciplines with free-flowing energy, encouraging students to discover and celebrate their own uniqueness. This new, harmonising form of yoga is suited to a wide range of people, giving even inexperienced students a feeling of peace, wellness and being at one with nature.
Yoga Evolution Retreats
are also launching a brand new yoga teacher training course in October (already fully booked), along with lots of new retreats throughout 2019. This year, younger students who have been attending for years will be given the opportunity to run their own retreats, bringing the calming powers of yoga to a whole new audience.
Sue and Peter are both highly trained and experienced yoga practitioners, between them offering extensive skills and knowledge in numerous disciplines including Mindfulness, Evolutionary Astrology, Martial Arts, Qigong, Shamanic Homeopathy, Yoga Therapy, Yin, Dynamic and Hatha Yoga. Working alongside them is an equally passionate team of practitioners welcoming new and existing students to the community. Indeed, the whole retreat is deeply rooted in a sense of community; working in harmony with the surrounding area and employing locals wherever possible. A local chef is joining the team, creating delicious vegan dishes to nourish body and soul, and there is a clear connection with nature throughout all the on-site activities.
Peter explained that helping the local area is an important part of his and Sue's daily lives, "The retreat also runs a forest management project, helping to replenish the area following the terrible fires of 2017, which very nearly reached the centre. We also hire local people to come and help us manage the land, and we're providing support for animals in the local community to help with veterinary services."
To find out more about the retreats on offer throughout 2019, view their retreat calendar.