The Dementia Society Announces SingFit® Platform as Recipient of Dementia SMART® Award Illustrating Rise of Music as One of Best Interventions for People with Dementia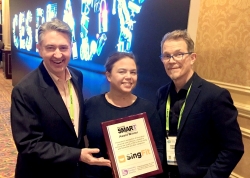 Doylestown, PA, January 30, 2019 --(
PR.com
)-- Dementia Society of America is recognizing Musical Health Technologies (MHT) and their technology platform, SingFit, as a recipient of its Dementia SMART Award. The Dementia SMART Award recognizes excellence in programs that help transform the health and lives of people living with dementia and their caregivers.
In 120 years, pharmaceuticals have failed to create a drug that prevents, cures, or even manages this devastating condition. According to the World Health Organization, when all forms of Dementia are combined, they are globally thought to be the third leading cause of death, behind heart disease and stroke in high-income countries. Groundbreaking studies out of multiple research institutions including Harvard Medical School and Tufts University as well as a new initiative between the National Institute of Health (NIH) and the Kennedy Center, Sound Health underline how medical communities are taking music's ability to transform health very seriously. Major healthcare institutions, such as the Cleveland Clinic and McGill University, have already integrated music as medicine into many aspects of care, but the majority of people still have only limited access to therapeutic music interventions.
"Even though we know the benefits of singing for people with dementia include improved cognition, speech and social engagement, with only seven thousand music therapists in the United States, music as medicine has failed to scale. This is where we come in," says MHT CEO Rachel Francine. "Our SingFit PRIME program is in use at more than 450 senior-living communities across 35 states. We've trained over 1,400 in-house staff members, most with no previous musical experience, to facilitate consistent, quality musical interventions. SingFit PRIME customers find that using SingFit with their clients 3 to 14 times a week results in a mood elevation of 42% with a 40% decrease in as-needed anti-anxiety medications. For people with dementia, we also see decreases in the behaviors associated with the disease, including agitation, wandering and social isolation."
"The Dementia SMART® Award stands for Simple, Meaningful, Accessible, Respectful and Trusted," explains Kevin Jameson, Volunteer President of the Dementia Society of America. "SingFit scored incredibly high in all areas, and we think it is especially important to draw attention to the game-changing way SingFit is using technology to vastly increase access to quality musical care, which all the experts are now telling us is so important to many conditions, including dementia. In addition, with the looming caregiver crisis (630,000 home-care jobs will need to be filled over next decade), SingFit's ability to improve the health and lives of people living with dementia, as well as their caregivers, truly impressed us."
"Fundamental to the program's success is our technology that includes the unique Lyric Coach platform, which speaks the words of a familiar song to a participant right before they need to sing them. This type of word cueing system that we now have digitized has been utilized by music and speech therapists for years and enables using singing as an exercise. Word cueing in music was used, for example, with Congresswoman Gabrielle Giffords after she received left hemisphere brain trauma from a gunshot wound. Giffords credits her entire rehab team along with her singing protocols for restoring her speech," says MHT Chief Clinical Officer, Andy Tubman. "This technology allows almost everyone, including those with dementia, low vision and other cognitive impairments, to instantly engage in the singing process. Then our music therapists and product teams build specific programs around that technology so that millions of healthcare professionals can use music as a powerful tool. As a music therapist for almost 20 years, it is very exciting to see the increased level of scientific interest in music as medicine as well as doing work that helps everyone have access to its benefits."
With more than 4 years of supporting those living with dementia and their caregivers, Musical Health Technologies has broken barriers in keeping costs low and benefits high. MHT's new program on the horizon, SingFit STUDIO, will focus on one-to-one homecare solutions, as opposed to group interventions, and will have modules that focus not only on dementia but also on chronic breathing disorders and other intractable and expensive healthcare conditions.
About Dementia Society of America:
Pennsylvania-based Dementia Society of America (DSA) is the nation's leading volunteer-driven all-dementias awareness organization. DSA provides an information hotline (1-800-DEMENTIA), many online resources and an easy-to-use, web-based locator, which can assist families and individuals in finding valuable support near to them. DSA underwrites through its Ginny Gives® Program, non-medical activities focused on: music and singing; dance and movement; the visual arts, touch, and sensory stimulation. The Dementia SMART Award Program provides recognition to those who serve the dementia community through meaningful innovation. You can learn more about the Society at
dementiasociety.org
.
About Musical Health Technologies:
Musical Health Technologies (MHT), located in Los Angeles, California, is finding new solutions for everything from dementia and depression to chronic breathing disorders and hypertension. Developed by certified music therapists, MHT's debut product,
SingFit PRIME
, is a prescribed singing solution currently used in more than 450 senior-living communities, skilled-nursing facilities and hospitals in 35 states. The SingFit platform allows providers of care for those 65 and older to deliver therapeutic music to their residents with their in-house staff.
In 2019, MHT will release SingFit STUDIO for use by individual facilitators in one-to-one sessions with clients. MHT is the winner of the AARP Innovation@50+ Award, the USC Keck School of Medicine Body Computing prize and the McKnight's Dignity in Aging Award. To learn more about Musical Health Technologies, please visit SingFit.com. The very best way to get to know SingFit is to see it in action. Check out Olivia's SingFit story
here
.
Photo: Kevin Jameson, Dementia Society of America (Left), with Rachel Francine (Middle) and Andrew Tubman (Right), of Musical Health Technologies, attending the Consumer Electronics Show (CES) in January 2019.
Contact
Dementia Society of America
Ann D. Redfield
800-336-3684
https://www.dementiasociety.org

Contact