Tulix Announces Successful Launch of Vidgo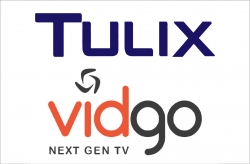 Atlanta, GA, January 30, 2019 --(
PR.com
)-- Tulix, the streaming technology incubator, has today announced the successful launch of prepaid live television service Vidgo. Tulix has been working with Vidgo in preparation for their launch throughout 2018. The agreement between the two companies sees Tulix providing Vidgo with a fully managed streaming architecture, professional services, and content distribution via Tulix's own CDN.
Initially, the agreement will see Tulix provide their services for Vidgo's Latino package, which offers over 25 of the most popular Spanish language channels from the United States, Mexico, Central and South America, Spain and more. Currently Tulix and Vidgo are working on launching its much anticipated English programming package.
"We are very excited to announce the successful launch of Vidgo," said George Bokuchava, CEO of Tulix. "It is a testament to our infrastructure that we are trusted to deliver premium networks to millions of viewers across the US. Vidgo needed a streaming architecture and CDN which could handle a rapid uptake in subscriber numbers and delivery of premium HD content without issue, and these are two of our core strengths as a business."
"Tulix has helped us design a world-class platform for live streaming that meets the rigorous technical requirements from the most important content providers in the world. Thanks to the system architecture designed by Tulix, the Vidgo system provides the flexibility of 6 different streaming profiles to accommodate end users' multiple broadband speeds at home or on the go," said Shane Cannon CEO of Vidgo.
About Tulix
Tulix is a streaming technology incubator that supports innovators, investors, and enterprises by providing guidance and resources on; strategy, infrastructure, technology, and business models across the whole streaming eco-system. Tulix provides complete 360° managed streaming solutions from its data centers in the United States and Europe. The company operates its own streaming-optimized CDN. www.tulix.com
About Vidgo
Vidgo is a prepaid over the top television streaming service with the most popular live Sports, Entertainment, Family and Latino programming at an affordable price. Each package includes three simultaneous device streams and is available at home or on the go. With no fees for equipment, no credit checks, and no contracts, everyone qualifies for Vidgo service. Vidgo customers can enjoy a 72-hour free trial to test the service out at www.vidgo.com
Contact
Tulix Systems
Adam Lowe
+1-404-493-8845
www.tulix.com

Contact