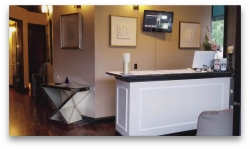 Las Vegas, NV, February 08, 2019 --(
PR.com
)-- Secret Body plans to hold an exclusive CoolSculpting event for Las Vegas locals. Secret Body's team are excited to get the word out about revolutionary CoolSculpting treatments at their Las Vegas Clinic. Attendees can learn more about the completely non-invasive procedure and enjoy networking opportunities over beverages and snacks. The CoolSculpting Las Vegas event will be held on 03/09/2019 from 10am to 4pm.
This private Las Vegas CoolSculpting event will allow anyone throughout the Henderson, Las Vegas, and Summerlin area to learn more about the no-downtime procedure. Complimentary body analysis's and special attendee packages will be given by their staff who are all CoolSculpting certified. Afterward, attendees will enjoy a meet and greet, have the opportunity to have questions answered on a one-on-one basis, and watch live demonstration of the CoolSculpting treatment.
Secret Body Las Vegas is a CoolSculpting certified practice specializing in body contouring. The staff members will also be available to provide tours of the practice. Each CoolSculpting suite is a dedicated space designed to maximize potential benefits.
CoolSculpting® is the worlds #1 non-invasive fat reduction procedure. The treatment has rapidly gained popularity due to clinically proven results that last. CoolSculpting entails zero downtime and little to no side effects. The advanced technology quickly breaks down unwanted fat cells on the hips, thighs, buttocks, flanks, abdomen, upper arms, and under-chin area. CoolSculpting is safe and effective for all skin types and can produce results in as little as 3-weeks.
CoolSculpting is not a weight loss solution but rather a body contouring treatment that can help sculpt the final touches. The procedure selectively targets hard-to-treat fat that's commonly resistant to diet and exercise. CoolSculpting is ideal for people who want to achieve a long-lasting sculpted appearance.
Secret Body is a Diamond Level Practice. Only a handful of CoolSculpting practices in the nation achieve this Diamond Crystal status. At their event they hope to educate people about how CoolSculpting freezes away fat cells for good, without downtime.
"It's a privilege to be awarded the Diamond Crystal Award from Allergan," shared Lee Marie Tanguay, Secret Body's manager. "We focus 100% on customer service we appreciate Allergan's recognition. We are a little bit of a hidden secret we do not do a lot of advertising, most of our clients are referral based, word of mouth or recommended by the Four Seasons," says Lee Marie Tanguay.
Those interested in attending this exclusive CoolSculpting event at Secret Body Las Vegas can do so by calling (702)564-1982 or sending an email to info@anthemsecretbody.com.
About Las Vegas CoolSculpting at Secret Body
Secret Body Las Vegas offers customized Las Vegas CoolSculpting treatment plans. We have chosen to specialize with in the Medical Spa industry by offering only experiences of exceptional quality. We deeply instill ethic of personal service. Doing so allows Secret Body Las Vegas to satisfy the needs and tastes of our discriminating customers who fly from all over the world to experience our "one of a kind service," and to maintain our position as one of the world's Destination Medical Spas.
We are Focused on quality
Our greatest asset, and the key to our success, is our people. We believe that each of us needs a sense of dignity, pride and satisfaction in what we do. Because satisfying our clients depends on the united efforts of many. We want you to feel confident in the quality of our CoolSculpting fat reduction treatment in Las Vegas. Our staff includes a highly trained team of certified laser technicians with years of experience, medical assistants, with supervision by a plastic surgeon, working together so you achieve maximum results. The solid experience of our staff means you can experience the benefits of our services without worry.