Market Realty LLC Lists Boeke Road Baptist Church for Sale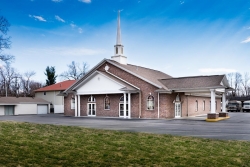 Evansville, IN, February 11, 2019 --(
PR.com
)-- On Thursday, January 31, Boeke Road Baptist Church finalized their purchase of the Nativity Catholic Church facility. Their plan is to relocate to 3635 Pollack Avenue on Evansville's east side in the next 4-6 months.
Boeke Road Baptist Church was founded in 1972 by Pastor Gayle Russ. In 2014 after 42 years as pastor, Gayle Russ retired and the church voted in Pastor Stephen Russ (Gayle's oldest grandson) as pastor of BRBC. Stephen and his wife, Cheryl, serve the Lord together at BRBC with their three children. The entire Russ family serves together at the church. Through God's good hand, the congregation has grown to over 300 members with every demographic of Evansville's society and age group attending on a weekly basis.
Due to their steady growth, BRBC began praying for a solution to their space problems. They became aware of Nativity Catholic Church, and it soon became apparent that this facility could be the answer to those prayers.
BRBC is home to Evansville's Faith Music Radio, 93.1 FM and 1180 AM. They are also home to a national ministry known as Faith Music Missions. This ministry operated by one of the church's pastors, Ed Russ, records between 30-40 albums each year for traditional Christian artists around the country.
The church will undergo a name change to Faithway Baptist Church at the time of their relocation. They hope to be holding services there by June or July.
Pastor Stephen Russ writes, "We would like to express our heartfelt thanks to the leadership at Holy Rosary for their willingness to sell the property to us. We understand there are many in the community who invested time, sweat and tears into Nativity, and we are committed to continuing a Christian ministry here that will be of great value to the city of Evansville. We would also like to thank Frank and Michelle Peterlin of Market Realty for their tireless efforts to help us secure this property for our ministry."
Boeke Road Baptist Church is currently located at the South West corner of Boeke Road and Riverside Drive, All 11 buildings are listed for sale through Market Realty LLC.
Interested parties should contact Frank Peterlin at (812)760-6670.
The Main Church Complex is being offered for sale at a price of $450,000. Church rectories and ancillary buildings are being sold separately.
Click here to see the listing:
marketrealty.net/listings
Contact
Market Realty LLC
Frank Peterlin
812-425-1906 ext. 1103
marketrealty.net
For more information about Boeke Road Baptist Church, contact Pastor Stephen Russ at 812-459-7392.

Contact