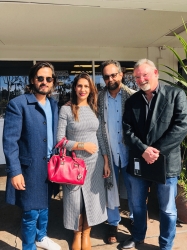 Los Angeles, CA, February 12, 2019 --(
PR.com
)-- Most known for directing Hollywood blockbusters Marked for Death, Rapid Fire, Free Willy 2: The Adventure Home, Murder at 1600, Halloween 4: The Return of Michael Myers and Anaconda 2; Little has also found success directing highly acclaimed US television series such as 24, Sleepy Hollow, Prison Break, Bones and Nikita.
"The Tiger Heart team engaged me to direct an outstanding romantic/action/adventure. Not only is this project exciting entertainment, it's also an important and meticulously researched expose of the horrendous poaching of wild tigers. Our goal is to inform and entertain a worldwide audience about the magnificent Bengal Tiger." - Dwight H. Little
Little was brought on by production house NY Studios and Lotus Entertainment Group. NY Studios traces its roots to 2005 when it was first established by co-founders, Indian filmmakers, Amit Sarin and Vineesha Arora. Amit is also an accomplished actor in Mumbai most known for his role as Kshitij in Balaji Telefilms' series Kkusum and Star Plus' series, Kyun Ki Saas Bhi Kabhi Bahu Thi.
Little will be joining the aforementioned on the project to create a globally relevant story with the intent to raise international awareness for the Bengal Tiger; one of the primary victims of poaching and illegal wildlife trade. The fully funded $5MM feature film is set to begin filming at the Jim Corbett Tiger Reserve, India in the summer of 2019.
The funding entity, Roaming Rickshaw Films is a Los Angeles-based independent film and digital studio house, also run by Amit Sarin and Vineesha Arora. They are set to roll an interesting slate of Hollywood projects including films and web series in the forthcoming year; all of which are currently in different stages of production.
"Making a film on socially relevant issues that need immediate awareness and action is the best thing we can do as filmmakers. We forget as humans that we live in God's debt and the least we can do is try to maintain a universal balance between man and nature. I grew up watching the Free Willy franchise, so I couldn't be happier to have Dwight's vision bring our story to life; he understands that human-animal connection very well." - Vineesha Arora
Written by Hollywood screenwriters Si Dunn and Scott J.T. Frank, Tiger Heart is a universally far reaching tale and is expected to be brought to life by Little's years of experience, intertwined with the Roaming Rickshaw Films spirit for Indian storytelling and vivid cinematography. The filmmakers are looking to globalize and bring attention to the widespread epidemic and multi-billion-dollar illegal wildlife trade industry; the same trade that's wiping out elephants, rhinos and dozens of other endangered species. The black-market business is run by sophisticated international crime syndicates and organized gangs preying on the exotic such as the Bengal.
"As a producer to make a film on the global issue of poaching and reminding the world of these majestic Bengal tigers from the heartland of India, via entertainment, and to be part of it as an actor is a super exciting journey that I'm looking forward to." - Amit Sarin
The feature film takes place at the foothills of the Himalayas, where the hunter will become the hunted. As the majestic Bengal Tiger is poached to near extinction, an Indian/American team joins forces behind one resolute man to eradicate a smuggling cartel and save the lives of the endangered species.
For more information, please visit, www.TigerHeartMovie.com and www.roamingrickshawfilms.com