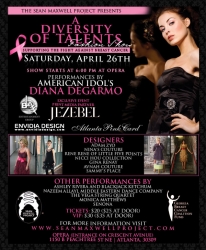 Atlanta, GA, March 26, 2008 --(
PR.com
)-- Who: The Sean Maxwell Project Presents a Diversity of Talents Fashion Show in Atlanta, Georgia to support the Fight Against Breast Cancer. Executive Producer Sean Maxwell who is involved with the Music, Film, Fashion and Modeling Industries.
What: Executive Producer Sean Maxwell is producing a Fashion Show to bring together a diversity of talents to support a worthy cause. Portions of Ticket Sale Proceed Profits will be going to help in the fight against Breast Cancer. The non-profit charity organization to receive the proceeds will be the Georgia Breast Cancer Coalition Fund.
Special Performances will be made by Diana DeGarmo of American Idol and others such as 1. Ashley Rivera and Blackjack Ketchum (Ashley was awarded the title of Georgia's Vocalist and Entertainer of the Year in 2007) 2. Senona (Their EP "Lost in Translation" has already received early critical acclaim) 3. Nazeem Allayl Middle Eastern Dance Company (they are known throughout the United States for their electrifying and expressive performances) 4. The Vega String Quartet (Vega Quartet has won numerous international competitions and performed in all three halls in Carnegie Hall) 5. Monica Matthews (she landed a 2003 Grammy nomination for her vocal contributions on the highly acclaimed " Second Nature" album)
Designers to be showcased are 1. Adam Zyo 2. Nina's Couture 3. Rene Rene of Little Five Points 4. Gina Renay 5. Nicci Hou Collection 6. Avnah Couture 7. Sammy's Place.
Why: Breast Cancer is still a common cause of deaths worldwide and continues to require support in the fight against it. Here in the United States, breast cancer is the third most likely cause of cancer death. Around the world the fifth most common cause of cancer death is attributed to Breast Cancer. Breast cancer is the most predominant cause of cancer death among women worldwide. In 2005, breast cancer caused 502,000 deaths (7% of cancer deaths; almost 1% of all deaths) worldwide.
When: Saturday April 26th 2008. Show starts at 6:00 PM EST. Ends at 9:30 PM EST. Tickets are available online through the Music for Charities' Download Uplift website and also through Ticket Alternative (877-725-8849). First 1000 women ticket-holders at the event will receive a Free Atlanta Pink Card.
Where: Opera at 1150 B Peachtree St NE, Atlanta, 30309 (Opera Entrance on Crescent Avenue)
Jezebel Magazine will be the exclusive event print media partner showcasing at the event. The Atlanta Pink Card is the Diamond Sponsor and Blaxxx Entertainment Group the Gold Sponsor. A number of less experienced models are being given the opportunity to be in the show and had to undergo Boot Camp Runway training provided by Ms. Nickee of Diva Day International.
For More Information (Sponsor, Media, and Vendor opportunities) visit The Sean Maxwell Project Website.
###