"Eye on Entertainment" Cable Television Show Interviews International Soccer Superstar Thomas Dooley
Thomas Dooley is the Founder and CEO of the American Soccer-Tennis Organization and the OC Kings.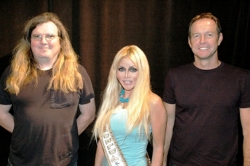 Huntington Beach, CA, March 26, 2008 --(
PR.com
)-- "Eye on Entertainment" (EOE), a cable television show shown on Channel 98 in Orange and Los Angeles Counties through Time Warner Cable, interviewed international soccer superstar Thomas Dooley at his beautiful Laguna Niguel home on March 22, 2008. Dooley has a keen eye for architecture and designed his stunning hilltop mansion. The interview for "Eye on Entertainment" was conducted by one of Dooley's soccer players for the Orange County Kings, Brandon McNeil. McNeil is an all-league midfielder for his high school team and has extensive international experience, playing in Brazil and Costa Rica. He has twice attended the prestigious IMG Academy in Florida.
Dooley was born on May 12, 1961, to a German mother and a U.S. Army father in Bechhofen, Germany. His professional soccer career began in 1984 as a midfielder with a German third division club, FC Homburg. The team reached the number one position in the professional German soccer league, the 3 and 2. Bundesliga. Dooley's team 1. FC Kaiserlautern won the German Cup in 1990, German Super Cup and the Bundesliga title in 1991. The United States was chosen as the host country for the FIFA World Cup '94, and U.S. soccer discovered Dooley. He made his first appearance for the U.S. national team in May of 1992, against Ireland. Dooley was named the United States Soccer Athlete of the Year in 1993. After the 1994 World Cup, he moved back to Germany and his team won the 1997 UEFA Cup title.
Dooley, his wife Elke and their two sons made the decision to return to the U.S. permanently, and he signed with the Columbus Crew Major League Soccer (MLS) team. Dooley had an award-winning presence in the U.S. and played three seasons in Columbus, Ohio. He won "American Player of the Year" on the MLS All-Star Team twice, and was also the recipient of the "Fair Play" award and the prestigious Honda Award. Dooley was named captain for the 1998 FIFA World Cup, and Dooley was given a send-off match by the United States in a 1991 friendly against Chile. He ended his international career with 81 international appearances (CAPS) and seven goals.
The Orange County Kings soccer league (www.ockings.us) was founded by Dooley in 2006 to train serious players who want to turn professional. Unlike traditional programs, OC Kings is a four-year apprenticeship in soccer. The program is built on the proven methods of top European coaches, with an emphasis on accelerating the acquisition of skills, increasing knowledge of the game, developing character, and practicing sportsmanship, teamwork and academic discipline. There are currently eight boys' teams and one girls team. In all existing 3 year the club moved 50% of the teams to the next level. The under-17 boys team won the CA State Cup in 2007.
Dooley is the founder and CEO of the American Soccer-Tennis Organization (ASTO). Soccer-Tennis is a lightening quick hybrid sport with furious, non-contact three-on-three action. Dooley kicked off ASTO in 2006 with the first ever Soccer Tennis Pro Invitational, featuring top-tier professional players from eight nations. Dooley is hosting amateur events across the U.S. Dooley's growth strategy for ASTO includes:
• Developing a national network of ASTO Ambassadors to promote the sport in every major U.S. metropolitan area
• Launching the ASTO National Cup, an amateur open tournament in Las Vegas
• Hosting the first Amateur Soccer Tennis World Cup in Las Vegas
• Establishing an infrastructure of committed sponsors
• Promoting top tier professional tournament events throughout the country, leading ultimately toward the initiation of the ASTO Professional Soccer Tennis League
Says Dooley, "Soccer-Tennis is a game that all soccer players, amateur and professions, know and love. It's the ideal game to perfect a player's technique...fast, exciting, and incredibly fun." For more information, go to: www.soccertennis.org
Eye on Entertainment
"Eye on Entertainment" is a high-energy, high-impact program that covers a wide variety of events and award shows. The show features powerhouse interviews with successful people in all walks of life. The EOE hosts go beyond the superficial and explore the traits that successful people have demonstrated to accomplish outstanding achievements. The original executive producer of "Eye on Entertainment" was Ken Huthmaker, who introduced the show in 2000. Dawna Lee Heising was a host for Ken on "Eye on Entertainment" and has continued the show as executive producer in Ken's honor. Dawna is Ms. World 2008 and is a long-time member of the Screen Actor's Guild. The director of photography, cinematography & webmaster for "Eye on Entertainment" is David McNeil. David is widely known for his professional photography. The producer and director of "Eye on Entertainment" is John Cox, a leading staff member in the film and video department at Orange Coast College. He divides his time between his students and producing television shows for Time Warner. For more information, please go to: www.eye-on-entertainment.com.
###
Contact
Eye on Entertainment
Dawna Lee Heising
(714) 390-7122
www.eye-on-entertainment.com

Contact