DonorDrive® Hosts Livestream Fundraising Bootcamp with Experts from Twitch, Extra Life and COHORT3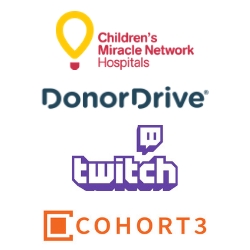 Cincinnati, OH, March 12, 2019 --(
PR.com
)-- DonorDrive®, the technology behind top peer-to-peer fundraising platforms for nonprofits, is joining industry leaders to host an immersive livestream fundraising bootcamp on Thursday, March 14, in Portland, Oregon for nonprofit professionals.
"We launched Live Fundraising™ technology at the close of last year and believe it's changing the game for our clients," said Jim Richter, Client Success Manager at DonorDrive. "By late February, nearly 15,000 people using Live Fundraising have raised almost $6 million and we've seen people who use the tool bring in 243% more than those who don't. Nonprofits on DonorDrive saw a 21%, year-over-year increase in the total raised by fundraisers who turned on Live Fundraising. Plus, the value of helping fundraisers bring their cause to life is immeasurable."
Learn from the Pros
Experts at DonorDrive are seeing nonprofits can reach new levels of success through livestream fundraising technology. This four-hour, hands-on course will provide an overview on streaming, a tutorial on best practices, and low cost ways to employ the technology.
Authorities on livestream fundrasing will lead the training, including an innovator from Twitch, the world's largest livestream platform, that's seen $110 million raised for charities since 2011 as well as the team behind the Extra Life livestream fundraising program that has raised $51 million since 2008. Bootcamp speakers include:
- Michael Kinney, Managing Director, Children's Miracle Network Hospitals & Lead for Extra Life
- Jim Richter, Client Success Manager, DonorDrive
- Ben Clayton, Product Integration Developer, DonorDrive
- Alyssa Sweetman, Charity Program Lead, Twitch
- Jeff Patrick, CEO and Founder, COHORT3
For additional details and to register for this session, please
click here
.
About DonorDrive®
DonorDrive helps hundreds of organizations like Mothers Against Drunk Driving, Children's Miracle Network Hospitals, American Foundation for Suicide Prevention, and Arthritis Foundation to raise more than $1 Billion. Learn more at
DonorDrive.com
.
About Twitch
Twitch is a global community that comes together each day to create multiplayer entertainment: unique, live, unpredictable experiences created by the shared interactions of millions. At any given moment, more than a million people come together from all over the globe to interact around this distinct form of live entertainment. From streaming, watching, chatting, and cheering about video games and esports to many other interests including traditional sports, anime, Sci-Fi, wrestling, music, cooking, the creative arts, and more, there's something for everyone on Twitch. https://www.twitch.tv
About COHORT3
COHORT3 is a modern, digital news company on a mission to accelerate the pace of innovation in the charitable sector. We research and deliver the news and information nonprofit professionals need to invent and thrive. Stay current and stay ahead with our NEWSletters, research, training, and reports. Learn more about our subscription service for nonprofit organizations. Grow and do good faster. https://www.cohort3.com
Contact
DonorDrive
Joanna Harvey
866-244-0450
https://DonorDrive.com

Contact