Daryn Henry Joins Arteric as Creative Director
Veteran Digital Communicator Brings Decades of Award-Winning Experience to Boundary-Pushing Agency.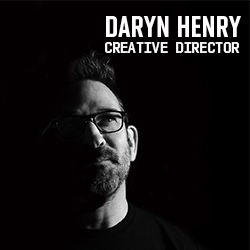 Summit, NJ, March 15, 2019 --(
PR.com
)-- "Creativity with purpose."
That phrase appears at the top of Daryn Henry's LinkedIn profile. Mr. Henry's dedication to this principle helps explain why Arteric selected him to lead Arteric's creative team, building on a remarkable period of growth that included Medical Marketing and Media (MM&M) naming Arteric at the top of its "Agencies to Watch in 2018" list.
Mr. Henry's lifelong passion has been the concise visual conveyance of essential information. At the United Kingdom's renowned Falmouth University School of Art, Mr. Henry received his degree after completing the Graphic Information Design program. The program's mantra, "transforming information into communication for a specific target audience," forged the foundation of Mr. Henry's design philosophy. Over a 2-decade career, Mr. Henry has leveraged this philosophy to create award-winning healthcare marketing campaigns at major agencies, including Sudler and Hennessey, Harrison and Star, BGB Group, and Digitas Health.
"Daryn's audience-first, message-centric thinking is perfectly suited for the era of hyperpersonalization. Daryn is an ardent champion of the brand and its visual identity, compelling us to creatively leverage the brand's hallmarks and design language in pursuit of user engagement and action," states Hans Kaspersetz, Arteric's president and chief strategy officer. "Audiences expect brands to anticipate their needs and to present the information on their terms, not the brands' terms. Arteric's strategy and analytics team uncovers the questions that audiences are asking. Daryn's design guidance conveys answers via rich, optimized experiences that delight and inspire action."
Alan Gerstein, Arteric's content director, expands on the value that Daryn brings to clients and colleagues. "I marvel at Daryn's ability to combine often-abstract input with market data to conceive creative concepts that are so intriguing and utterly appropriate for the business solution. Then, he guides the team to turn concept into exquisite experience with a leadership style that creates a comfortable environment where everyone can focus all their energy on the joy of creation. The latter is a rarity in the agency world, especially when business is booming."
Mr. Henry shared these thoughts on his role at Arteric. "I define myself as a communicator first and foremost, and that principle is at the heart of how I like my creative teams to approach the work. We must always consider the audience's emotional and rational mindset. This ensures that we deliver communication that always provides a very memorable experience, with both an impactful, emotive tone and an efficient, effective understanding. In this way, the end user remains at the crux of everything we do.
"In this never-stand-still, ever-evolving environment, we are constantly searching for what's next, what's different, and the next boundary to push to provide people with the most optimized communication they can experience. It's an exciting place to be, and I am privileged to lead a team of brilliant people at the top of their game here at Arteric."
Work with Arteric
For 2 decades, Arteric has helped pharmaceutical brands, biotechnology brands, and medical device manufacturers transform leading-edge technology into competitive advantage. Contact Hans Kaspersetz at 201.546.9910 to advance your brand with personalized marketing solutions that work everywhere, every time.
About Arteric
Arteric is a pharmaceutical and biotechnology digital marketing agency renowned for its expertise in digital brand strategy, software engineering, data, search engine optimization, search engine marketing, CRM, and analytics. Arteric is the digital agency that will propel your clinical trials recruitment, premarket shaping, disease state education, brand launch, or brand revitalization forward with digital insights and execution that cannot be matched.
Contact
Arteric
Daryn Henry
201-546-9910
https://arteric.com

Contact