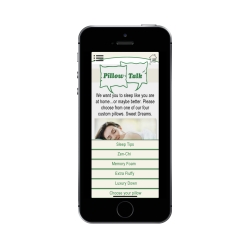 Corvallis, OR, March 26, 2019 --(
PR.com
)-- Want a special pillow for your BnB Stay when you arrive? Start some "Pillow Talk(R)."
Guests at the Fernwood Circle Guest Houses can use their BnB ToGo mobile concierge app to request a special pillow even before they arrive using their in-app messaging system "Pillow Talk," created by local hospitality tech company HospitalityVision and women tech company President Marti Staprans Barlow.
Marti explains, "In this competitive BnB and hotel booking environment, a property has to offer something unique and different. Guests love a good, comfy pillow and expect a good night's sleep, so why not let them choose their own pillow? Guests arrive and their custom pillow is waiting with a card describing the pillow. Hospitality is all about improving the guest experience and going that extra step for your guest and actually accommodating different types of sleepers.
"Guests are encouraged to download the new, updated BnB ToGo™ at the App Store or Google Play before they arrive and then enter hotel code 1110. Then they can choose from the four different 'custom pillow groups': Zen-Chi, Memory Foam, Extra Fluffy or Luxury Down and have them fluffed up on their beds on arrival. These pillows are high quality, with an average cost of $60+ each."
Alexandra Eder, Owner of Fernwood Circle Guest Houses, says:
"A good pillow is critical. If you're sleeping on the wrong pillow your whole body is out of alignment and you will not sleep comfortably. There are different types of pillows out there. For example, we offer a Memory Foam pillow, developed for the NASA space program which actually contours to the shape of your head for maximum comfort. For those that want to be pampered, we offer a Luxury Down pillow comprised of responsibly sourced down feathers and gel fibers. Our Zen-Chi Buckwheat pillow is rated as one of the best--you can mold the hulls to expand or flatten, and they stay cool for hot sleepers and back sleepers. All of our pillows are hypoallergenic."
According to Staprans Barlow, "Americans spent $981 million on pillows in 2016, so we know how important they are. We want our BnB Guests to come to Corvallis, get a good night's sleep and have the sweetest dreams. It's all in the pillow so 'let's fluff it up and talk.'"
Owner Marti, a breast cancer survivor, learned to appreciate her pillow as she was going through treatment.
Guests also use the BnB ToGo app to discover BnB amenities, house rules, book a spa, locate local restaurants and shops, make dinner reservations, find local hiking and biking trails, buy tickets to attractions, find their way around Oregon State University, order room service at their BnB, get a Welcome from the Mayor, and even send a free virtual postcard showcasing Corvallis.
HospitalityVision first created the app ConciergeToGo for hotels to allow hotel guests "to take the directory out of the room.™" HospitalityVision provides hotels with guest directories on each room's TV nationwide, eliminating the need for the print directory. HospitalityVision can install an in room Welcome channel or create a custom mobile app for your hotel or BnB.
Pillow Talk is a registered trademark of HospitalityVision.
Find more about Pillow Talk™ at
hospitalityvision.net
or
watch video here
.