Maya HTT Extends Its Strategic Alliance with OSIsoft to Bring "4D Lifecycle Visualization" and AI technology to Smart Buildings
Technology originally built to optimize data center capacity, now used to help better utilize power distribution in smart airports and coordinate patient room assignments in smart hospitals.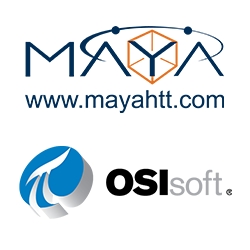 Montreal, Canada, April 10, 2019 --(
PR.com
)-- Maya Heat Transfer Technologies (
Maya HTT
) announced today that it has expanded its strategic product alliance with OSIsoft LLC, a leader in operational intelligence, as part of its plan to bring its Datacenter Clarity LC® platform to smart buildings with an initial focus in healthcare and aviation.
The announcement was made at PI World taking place this week in San Francisco.
Maya HTT's Datacenter Clarity LC® is a datacenter infrastructure lifecycle management platform that offers a complete real-time view into datacenter operations by leveraging state-of-the-art management tools to optimize equipment placement and energy consumption. Datacenter Clarity LC can also serve as a forecasting model detailing changes in performance over time, giving administrators and operators a 4D digital model of their operations. OSIsoft's PI System is embedded into Datacenter Clarity LC to capture real-time operational data fueling advanced analytics. The combination of Datacenter Clarity LC and the PI System have helped
world leading data centers create a cockpit view of its national datacenter network
, deliver real-time performance information to executives, and formulate
a foundation for capacity expansion
.
Under the extended agreement, Maya HTT will now integrate OSIsoft's PI System in a new smart building offering for healthcare and aviation. In healthcare, for instance, Maya is working with hospitals on developing an hypervisor platform for optimized room occupancy while increasing safety and patient thermal comfort. Bed space in a hospital in North America or Europe can cost $600,000 to over $1 million to construct and thousands per year to manage and operate. Hospitals, however, cannot allocate rooms randomly. Infectious patients have to be separated while patients with light sensitivity are better placed in certain clinics than others within the building.
With its new smart building solution, healthcare organizations will be able to examine factors like room occupancy, HVAC activity, ambient environmental conditions and equipment status and location continually updated and synthesized in real-time with the PI System.
At airports, meanwhile, the same smart building technology from Maya HTT will help allocate available bandwidth among airlines, stores and other tenants per their existing service level agreements as well as model the impact of usage drift and expanding consumption over time. Similarly, airports will employ the solution to control power distribution in airports. Excessive power consumption of an individual airline or tenant can lead to flight delays and other cascading problems. Maya HTT's smart building solution will help administrators match actual usage in real-time with SLAs as well as help airports devise more precise expansion plans.
"Hospitals, airports and data centers are three very different environments, but it turns out that the underlying principles for managing and optimizing them are remarkably similar," said Remi Duquette, vice president of AI and datacenter at Maya HTT. "Expanding our relationship with OSIsoft is a critical part of our strategy. Operational data is the fuel for our advanced analytics and applied AI algorithms, and the PI System has long been the industry standard for capturing and organizing industrial type of information so that it can be used to effect real change and help people make smarter decision. We are simply transcending Datacenter Clarity LC powered by the PI System to other smart building use cases. People tend to forget that we most of us spend over 90% of our lifetime indoors in different buildings. Hence we focused our expansion efforts in turning those critical buildings into smarter buildings."
"Maya is at the forefront of the transformation in how critical facilities and other buildings will be managed," said Scott Smith, industry principal for facilities at OSIsoft. "The combination of the equivalent of Datacenter Clarity LC® and the PI System will help people better understand their facilities and increase their value."
About Maya Heat Transfer Technologies
Maya HTT is a leading developer of simulation CAE, DCIM, and IIoT software. The company provides training and digital product development, analysis, testing services, as well as IIoT, real-time telemetry system integrations, and applied AI services and solutions. Maya HTT are a team of specialized engineering professionals offering advanced services and products for the engineering, datacenter, and smart building world. As a Platinum level VAR and Siemens PLM development partner and OSIsoft OEM and PI System Integration partner, Maya HTT aims to deliver total end-to-end solutions customized to meet the most demanding client needs.
https://www.mayahtt.com
About OSIsoft
OSIsoft is dedicated to helping people transform their world through data. The company's PI System is a data infrastructure for critical operations that transforms the data generated by sensors, devices and industrial processes into rich, real-time insights to help people save money, increase productivity or create connected products and services. Over 1,000 leading utilities, 80% of the world's largest oil and gas companies and 65% of the Fortune 500 industrial companies rely the PI System in their operations. Worldwide, over 2 billion sensor-based data streams are managed by the PI System.
Contact
Maya Heat Transfer Technologies Ltd.
Rita Azrak
1-514-369-5706 ext 236
www.mayahtt.com

Contact