Drew Rothman of R-T Specialty Explores Wood-frame Construction Trends & Challenges at CLM Conference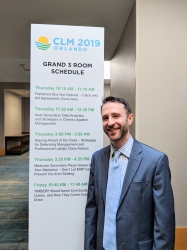 Hamilton, NJ, April 22, 2019 --(
PR.com
)-- Drew Rothman of R-T Specialty, LLC's National Environmental and Construction Professional Liability Practice (ECP) recently explored the wood-frame construction boom and strategies for managing the related and wide-ranging risks at the 2019 Claims and Litigation Management (CLM) Alliance Annual Conference held March 13 – 15 in Orlando, Florida.
"Due to its low cost and availability, wood-frame construction is extremely popular for building everything from apartment complexes to multiuse facilities," says Rothman. "But it does not come without the threat of liability. Contractors need to employ the proper risk management strategies. While insurance is not the only method for addressing liability issues, it is essential for preparing against the challenges confronting this highly litigious marketplace."
During the panel discussion titled "TIMBER!! Wood-frame Construction Claims, and How They Come Crashing Down," Rothman highlighted wood-frame construction concerns from a contractor's viewpoint and the factors determining their ability to obtain favorable coverage terms and conditions. "The scope of coverage is as important as the definition of services applied by insurers," explains Rothman. "Contractors need to understand the criteria used by carriers to write policies. This includes offering detailed information highlighting the specific work to be performed, contractor's experience with similar projects, prevention of mold challenges and the strategies in place for overcoming any number of errors and omissions."
According to Rothman, typical wood-frame construction claims involve allegations commonly seen within the construction industry. However, it is critical to recognize that wood-frame related mold claims often include allegations of errors and omissions in professional services. This highlights the need for a well-placed professional liability policy without pollution/mold exclusions. As a result, contractors need to understand and be keenly aware of each policy's:
--Exclusions/limitations/definitions and conditions
--Definition of professional and/or contracting services
--Self-insured retentions and deductibles
--Mold, bacteria, claims-made and occurrence terms
For more information on the risk management strategies available to the wood-framing construction industry please visit R-T Specialty's National Environmental and Construction Professional Liability Practice (ECP) at newday.rtspecialty.com or call 609-298-3516.
About R-T Specialty, LLC
RT New Day, a division of R-T Specialty, LLC, is a specialty resource for agents and brokers, assisting them and their clients find appropriate, high-quality environmental and construction-related professional liability insurance coverages. RT New Day offers agents and brokers single-point access to an ample portfolio of products and services provided by the nation's largest environmental and professional liability insurance providers. In California: R-T Specialty Insurance Services, LLC License #0G97516.
Contact
RT New Day
William Chelak
732-541-2971

Contact