Building Bridges Art Exchange is Presenting Artists Julia Curylo and Craig Deman - Opens to the Public on May 4th - June 1st
A new exhibition by Julia Curylo and Craig Deman opens May 4, with a 6PM reception at Building Bridges Art Exchange (BBAX), Santa Monica, CA. The exhibition features paintings, photographs, inflatable sculptures and installations and will be on display until June 1.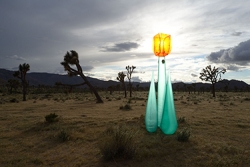 Santa Monica, CA, April 24, 2019 --(
PR.com
)-- "In the exhibition Desert Projekt, we are featuring two artists who work in two different mediums, creating a narrative as a mirror of their work, about how they connect and view the desert with the different lenses from the two different cultures, the result of this intriguing conversation is a collaborative body of very strong works," said the BBAX Director/Curator, Marisa Caichiolo.
Desert Projekt is presented by Building Bridges Art Exchange and is sponsored by the Adam Mickiewicz Institute the Foundation for Research & Education Excellence, Joshua Donen Productions, Bench International and the General Consulate of Poland in Los Angeles.
About Julia Curylo
Curylo is an artist based in Warsaw, Poland. She is the author of paintings and installations presented in public spaces. In 2012 and 2016, she received a scholarship awarded by the Minister of Culture and National Heritage. She is interested in the ambiguity of the world - devotion juxtaposed next to perversity, childishness to maturity, morality to licentiousness, truth to falsity, or beauty next to kitsch. Curylo has participated in over 60 exhibitions in Poland, Europe and the USA.
About Craig Deman
Deman is an American photographer who splits his time between Santa Monica and Palm Springs. He is interested in cultural artifacts that have helped to define life in America since the middle of the last century and has framed, colored and otherwise presented his uncanny photographic imagery that reflects this life in a way that is timeless, iconic and unforgettable. Deman's work has been exhibited in galleries and museums within the USA and Europe.
About Building Bridges Art Exchange
Building Bridges Art Exchange is a Non Profit Organization 501 (c) 3 dedicated to cultivate an understanding among cultures worldwide through international art exhibitions (workshops-lectures), art exchanges and artists residencies.
Established in 2005, BBAX was created as a platform that would enable artists from across the globe to connect, engage in peaceful dialogue, and create narratives that explore political issues and social movements which impact different regions of the world.
Building Bridges Art Exchange is located within the Bergamot Station complex of art galleries at: 2525 Michigan Ave. Unit F2, Santa Monica, CA 90404.
Contact
Building Bridges Art Exchange
Marisa Caichiolo
323-893-3924 / 310-770-1961
buildingbridgesartexchange.org

Contact