iGrad Receives Pension & Investments Eddy Award for Enrich™ Financial Wellness Platform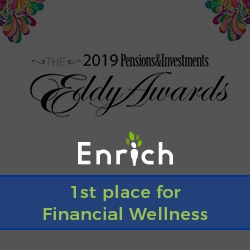 San Diego, CA, April 24, 2019 --(
PR.com
)-- iGrad recently was recognized with a Pension & Investments Eddy Award for its
Enrich™ financial wellness platform
.
iGrad was honored along with Virginia Retirement System (VRS), an independent state agency that offers the Enrich platform to its 700,000 members. iGrad and VRS received the top score for public plans. Enrich is used by both public retirement plans and private retirement plan sponsors.
VRS offers Enrich to its members to help them make informed and educated decisions on everyday financial matters while saving for the future and retirement security. The Enrich platform provides adaptive, personalized tools, tips and time-savers that help them with debt and credit management, personal budgeting, spending habits, saving for goals, student loan repayment and career-development strategies.
"Our goal is to take a holistic approach to financial education and provide our members with the resources to work on their day-to-day financial habits," VRS Director Patricia Bishop said. "The myVRS Financial Wellness program offers education for members at all stages of their careers, from paying off student loans to buying a house and saving for retirement. We're honored to receive the Eddy Award recognizing these efforts."
The Eddy Awards is an annual program through Pension & Investments that recognizes plan sponsors and service providers for best practices in offering investment and financial education to plan participants. This year, the Eddy Awards added financial wellness as a new category.
"We are pleased and honored to be recognized with the prestigious Eddy Award, especially along with our valued partner Virginia Retirement System," said iGrad founder and President Rob LaBreche. "An increasing number of plan sponsors are prioritizing the financial wellness of their members and realizing it is a worthy endeavor."
Enrich is used by more than 300 employers and financial institutions nationwide to provide comprehensive financial wellness education and action plans to employees and customers. Designed around a proprietary behavioral algorithm, Enrich personalizes financial information for each user's situation and needs. It also offers tools, quizzes, videos, articles and a library of multimedia content.
About iGrad
iGrad is a San Diego-based private company that offers financial wellness solutions to colleges and universities, employers and financial institutions. The company's Enrich financial wellness platform is used by more than 300 U.S. employers and financial institutions. Its platform for higher education, also called iGrad, has been named Education Program of the Year three times by The Institute for Financial Literacy, is a three-time winner of the Best Product Award from University Business Magazine and has won the Outstanding Consumer Information Award from the Association for Financial Counseling and Planning Education.
Contact
iGrad / Enrich
Jennifer Wezensky
269-274-4071
http://www.enrich.org

Contact