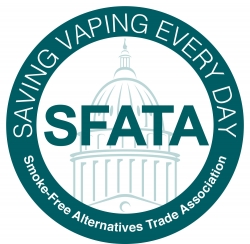 Washington, DC, April 26, 2019 --(
PR.com
)-- Got Facts? SFATA Does. The FDA? Not so Sure.
Find out more in the next 30 seconds by watching the following:
https://www.youtube.com/watch?v=zYuyS1Oq8gY
It's what the FDA is telling your kids - and you - about vaping.
Did you watch? SFATA - the Smoke-Free Alternatives Trade Association, thinks it's pretty disgusting.
"Our kids and yours go "eww that's gross" ... and then they laugh. That's because they know there isn't a single truth in this spot. Not one!" says SFATA.
"The FDA, our government and our elected officials hired a famous movie director to scare our kids. That's what he does in his movies - makes people afraid. Except our kids aren't dumb - they know there's no scientific proof or sourced data about what's in this spot. None. Watch the spot and you'll understand."
- April Meyers, President, Board of Directors/Chief Executive Officer, Smoke-Free Alternatives Trade Association.
"Kids won't be lied to. They know the truth about vaping and you should too."
"Ask the government to put the money they spent on that commercial - your tax dollars - to fund long term studies of all the good vaping actually does to help the adult smoking public - just like the studies done in the UK." - April Meyers.
About SFATA: SFATA is the premier and largest vapor and e-cig trade association. The association represents the interests of the entire supply chain, including manufacturers, online retailers, brick and mortar vapor store, distributors, importers, and wholesalers. For more information about SFATA, visit
www.sfata.org
and follow SFATA on Facebook, Twitter, and Instagram.
Contact:
SFATA Executive Director: Mark Anton (973) 252-4326
SFATA Media and Public Relations: Amy Krakow 212.587-0540