Telematics is on the Rise and It's Changing Healthcare
As the necessity for increased efficiency in healthcare rises, it's become vital for healthcare professionals to manage the implementation of telematics into their infrastructure.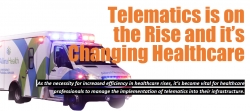 Raleigh, NC, April 25, 2019 --(
PR.com
)-- Every fleet operator, no matter what their industry, has common issues: safety, stop time, distracted driving, accident avoidance, maintenance, fuel consumption. Telematics tools, devices, and the story the data is telling is causing huge paradigm shifts in the healthcare industry. The numbers alone illustrate telematics financial value:
Telematics accounts for an average savings of $6,392 per vehicle, per year.
Return on Investment [ROI] typically occurs within months for most enterprises.
Yet, on the surface, it appears healthcare providers are not fully convinced of the value and importance of adopting these cost and life-saving technological advancements as quickly as other industries have.
"For obvious reasons, the trucking industry was first to adopt fleet and mobile workforce telematic solutions," explains Stuart Lamm, a 27-year veteran of the industry and founder of BlueArrow Telematics. "Service industries were next, primarily because they tend to work on tight margins. They immediately saw the value of telematics and benefitted from the cost savings."
Gary LeLoup, Director of Fleet Services for one of the largest healthcare providers in Minnesota, Allina Health System, understands both industries well. He worked for 40 years in the full-service truck leasing industry before being recruited by forward-thinking executives at Allina.
Today, eight years later, LeLoup oversees a fleet of 334 vehicles that serve 100+ clinics, 12 hospitals, 15 pharmacies, specialty care centers, specialty medical services, as well as in-home patient care, senior transitions and hospice – managing all of them from one fleet tracking platform.
Healthcare telematics pioneers, Allina and BlueArrow Telematics, have created a framework for deploying telematics that works for healthcare providers of any size. "It is not without its challenges," explains LeLoup. "But the evidence of benefits is overwhelming. We can save up to $28,000 per month on idle fuel alone! I can't imagine that any company with vehicles in service wouldn't use telematics."
What Is Telematics
Telematics is a field that merges vehicular technologies and devices, telecommunications and information processing and can include anything from GPS systems to in-vehicle cameras. Using a combination of technologies, healthcare providers can monitor driver behavior, seat belt usage, emergency light usage, medicine box usage/temperature, vehicle maintenance, fuel usage and much more.
"Telematics is a network of devices and technology that works like a fine-tuned machine to track and measure data that helps us increase productivity and efficiencies, manage people and projects, and, most importantly, improve safety," explains LeLoup.
The mammoth liability faced by a company or employer with a mobile workforce can't be discounted. Companies, particularly healthcare systems, must do everything they can to ensure the safety of their patients and efficiency of their vehicles and drivers. Incidents can bring a small company to their knees and for larger companies – they can tarnish a hard-won and valuable reputation built over decades of service.
The Challenge
"Strategy is a commodity; implementation is the art."
When LeLoup came on-board, each department - ambulatory, logistics, security, mobile nursing - were using different early editions of telematics systems, mostly provided by local companies. Compared to what he had just come from, they had a long way to go.
How was he, a "Department of One," able to successfully implement a telematics program - a completely new standard - into this 100+ year old company? And how does one get buy-in from the thousands of employees who would be affected?
Gain Consensus
Start at the Top
Executives of Allina Health System met with LeLoup at multiple venues where he led informational seminars. They immediately saw the benefits of adopting and integrating telematics tools – for the improvement of safety and medical care and the benefit of their bottom line. Armed with decades of experience, LeLoup was up for the challenge, combining his skills as a manager and technology specialist, to build and implement an innovative solution to address the complex issues facing this healthcare provider that serves one-quarter of Minnesota's population.
LeLoup met with the leaders of each of the 17 departments to better understand their individual pain points, requirements, and opportunities. This discovery process helped prioritize needs and generate an integrated approach that was flexible, scalable, measurable, and centralized. "To achieve our goals, we needed one system where all the information is stored and can be accessed and mined. Together, we determined who measures what, why, and when. And the system had to be able to change and adapt as we grew."
The supervising team worked with LeLoup to establish key metrics and goals they would abide by when making decisions regarding the deployment of telematic solutions.
Allina's Telematic Metrics
1. Safety First – Enhance safety and security for patients, drivers, and the public they serve and live among
2. Operate Conservatively – Move forward cautiously and implement changes judiciously
3. Best Practice – 100% of the time
4. Scalability – Solutions must be flexible and expandable to support future iterations
Test, Test, Test
The first priority was to find a full-service telematics provider with healthcare experience to recommend options. What tools are available? How do we merge these into existing systems? What does it cost? What outcomes can we expect?
LeLoup had already selected the fleet management software solution he wanted to engage. He opted for Geotab, one of the largest and most robust platforms in the industry. Their award-winning fleet tracking platform helps businesses leverage data to better manage their fleet, increase productivity and efficiency, and improve driver safety.
With that in place, LeLoup went in search of a service provider to connect the dots with other solutions in the marketplace. "I talked to all the big providers, and, frankly, was not pleased with the multi-year contracts they required. If something wasn't working for me, why should I pay for it for years?"
He asked Geotab to recommend an alternative – preferably a group with healthcare experience - who could help tailor a custom solution from the hundreds of programs and telematic tools available at the time. They immediately thought of Stuart Lamm and his company, BlueArrow Telematics. "BlueArrow was the ideal choice for us – small enough to be nimble and fast-moving, plus they had the real-world experience, skills, and know-how to help us build an innovative program for Allina Health from the ground up," adds LeLoup.
Lamm advocated a conservative, step-by-step approach, concentrating first on telematic solutions that would have the greatest impact for the company's safety and financial goals. Real-time vehicle location, driver behavior, seatbelt use, and overall efficiencies of Allina's fleet was their first focus. Investing wisely in devices and tools, they tested them on a small scale first, then launched fleet-wide when the benefit was measured and proven.
"It was only a few months before we were seeing increases in productivity, efficiency, safety, and savings," LeLoup commented. "Our savings paid for the initial investment of equipment in no time."
BlueArrow's Customized Program For Allina Includes:
· State-Of-The-Art Asset Tracking for high cost equipment. BlueArrow technology utilizes Bluetooth beacons integrated with its GPS tracking solution to show which vehicle is carrying the asset or the last known location of the asset.
· In-Vehicle Camera System to assist drivers with backing and lane changes.
· Monitor Lights/Siren Use to better manage driver behavior while on-call vs. non-call driving.
· Engine Idling Alerts to reduce idle time, vehicle maintenance costs, and curtail fuel used and carbon emissions.
· Distracted Driving Solution that monitors driver behaviors such as harsh braking and hard turns which is typical behavior for a distracted driver.
· Fuel Card Integration to track where and when fuel is being purchased to prevent abuse.
· Geotab Fleet Management to integrate technologies and provide real time custom reporting.
· Custom Driver Vehicle Inspection to help drivers inspect vehicles pre-trip/post trip to insure vehicles are safe to drive.
· Driver Rewards Gamification designed to motivate drivers and managers to be safest in fleet and be rewarded with safe driver bonuses and peer-to-peer recognition.
· In-Vehicle Coaching is used on 25% of vehicles and verbalizes messages and alerts for unsafe driving behaviors in real-time to the driver in the cab
· Accident Avoidance Technology is the latest BlueArrow technology that will provide drivers with in-vehicle alerts warning of tailgating, unsafe lane changes, and the presence of pedestrians/bicycles ahead. This technology will help give the driver a few seconds more to react to potential accident scenarios.
Driver Resistance
Many drivers respond to the implementation of telematics systems and electronic tracking devices or technology as if it is an invasion of privacy. Learning how to implement vehicle monitoring systems in a positive way helped the team avoid pushback from drivers.
In one study, nearly 43 percent of fleet managers surveyed stated they had a "significant amount" of resistance when implementing telematics systems into their fleets. Drivers can go so far as to sabotage the use of the devices – making it impossible to get real data.
LeLoup and Lamm put their heads together and developed a process to deploy the program and ensure employee engagement.
How To Secure Driver Buy-In To Telematics
1. Communicate the "why," "how" and "what" of the improvement goals in a professional discussion as early as possible in the process. What employees understand, they will more likely support.
2. Set clear rules and expectations.
3. Share how telematics benefits them, as much as it does the company:
· It can provide proof against false claims made against the driver.
· It can help spot problems in vehicles condition that could impact safety and performance, oftentimes before the driver is aware that a problem exists.
· Today's drivers have a lot to keep track of, and any tool that helps them do so more safely is welcome once it is understood.
4. Add incentives, Driver Rewards, and a sense of peer-to-peer competition to the mix.
5. Never use telematics as a disciplinary tool for individuals. Use it to create beneficial systems for the entire company or department.
Allina Health is now considered a "heavy user" of telematics, particularly when compared to other healthcare systems. When asked why others are taking longer than expected to adopt these life and cost-saving technologies, LeLoup is quick to respond.
"The fact of the matter is, if you do this – and you track and measure key metrics using telematics – you can't 'un see' it. Drivers, executives, we all must act on what we've learned to continue to grow, get better, and be the kind of company where people want to be cared for – for the whole journey of their life."
The knowledge earned by both Allina and BlueArrow Telematics has given them a distinct advantage and a wealth of experience in their respective industries. Lamm concludes, "I'm not sure there's another company out there that has the breadth and experience in the healthcare telematics space. Our partnership has been an integral part of this and we're proud of the results we've achieved."
About BlueArrow Telematics
BlueArrow Telematics [formerly GPS Mobile Solutions Inc.] is a privately-owned company located in Raleigh, North Carolina whose mission is to provide clients with industry-leading Mobile Workforce Technologies along with expert advice and superior customer support. For over 27 years, BlueArrow has forged a clear stake in the technology, telecommunications, and fleet management industries by providing, developing and implementing SOLID, effective, and efficient mobile workforce strategies that save enterprises time, money and, most importantly, LIVES. https://www.bluearrowtelematics.com
About Allina Health
Allina Health is dedicated to the prevention and treatment of illness and enhancing the greater health of individuals, families and communities throughout Minnesota and western Wisconsin. A not-for-profit health care system, Allina Health cares for patients from beginning to end-of-life through its 100+ clinics, 12 hospitals, 15 pharmacies, specialty care centers and specialty medical services that provide home care, senior transitions, hospice care, home oxygen and medical equipment, and emergency medical transportation services. https://allina.com
About Geotab
Geotab is advancing security, connecting commercial vehicles to the internet and providing web-based analytics to help customers better manage their fleets. Geotab's open platform and Marketplace, offering hundreds of third-party solution options, allows both small and large businesses to automate operations by integrating vehicle data with their other data assets. As an IoT hub, the in-vehicle device provides additional functionality through IOX Add-Ons. Processing billions of data points a day, Geotab leverages data analytics and machine learning to help customers improve productivity, optimize fleets through the reduction of fuel consumption, enhance driver safety, and achieve strong compliance to regulatory changes. Geotab's products are represented and sold worldwide through Authorized Geotab Resellers. https://www.geotab.com
Contact: Rebecca Antonelli, 919.740.3008 or RA@RebeccaAntonelli.com
Contact
BlueArrow Telematics
Stuart Lamm
(866) 935-6610
www.bluearrowtelematics.com
Experts are available for interviews when you need them.

Contact