Thump Records Announces "Dreamer In California" Single by R&B and Soul Singer Daphee
Daphee's harmonic filled single "Dreamer in California" is the perfect song to blast on a relaxing Saturday morning and while cruising down the streets of sunny Malibu. See what the talented soulful singer is up to since the released of her album under the same title.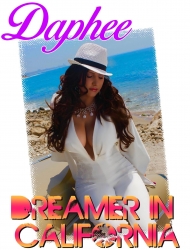 Brea, CA, April 26, 2019 --(
PR.com
)-- Daphee captured the attention of millions when her song "Hair Like This" was used, as the theme song, for the hit TV show LA Hair on WETV. After that, there was an avalanche of TV shows using "Hair Like This" which included AUDC, Dance Moms, Toddlers and Tiaras, Bad Girls Club and many more. This new exposure led to a recording contract with Thump/Caroline/Universal, in which her highly anticipated CD, Dreamer in California, was released.
Daphee's music is a melodic blend of old and new and has an extraordinary way of cutting straight through to the core of her listeners' emotions. Her inspiration is derived from soul legends, such as Mary Wells to modern day hit-makers like J-Lo. With a passion for songwriting running through her veins and melodies that stick to your brain, she has managed to amass a loyal and sizeable following through her dynamic live performances and savvy online presence.
Following the successful release of Dreamer in California, Daphee has been courted to perform at the Microsoft Theater in Los Angeles, the famed Conga Room, in various festivals and clubs across the Southwest of the US. After charting in the top 10, on the Indie charts in Japan, Thump Records is in the process of arranging a tour there. She's looking forward to taking Asia by storm.
Hailing from a working-class neighborhood of the San Fernando Valley and born to Mexican immigrant parents, social causes are always at the forefront of her mind. Since the release of her album, Daphee has donated her talents to numerous charities and community events, which also included a track called, "Don't Put Me Down Cause I'm Brown," recorded with Latin Rap legend Kid Frost and current/former members of War, Tierra, El Chicano and Thee Midniters. The recording of her follow-up album, with her husband and veteran music producer D. Salas, has already begun and is scheduled for release in Summer of 2019. Her second solo release will be an all-Spanish album that is destined to become a fan favorite.
Click here to download the single:
https://itunes.apple.com/us/album/dreamer-in-california/1381581357?i=1381581792
Click here to stream the single:
open.spotify.com/track/6mOCRiOXdhyQUiuwKj848o
Contact for Label & Press: Bill Walker, bwalker@thumprecords.com
Thump Records is distributed by Caroline through Universal Music Group.
Contact
Thump Records Inc.
William Walker
909-595-2144
www.thumprecords.com

Contact