Blockchain-Based App Upheaval Uses AI to Detect Objects and Create the Next Generation Social Experience
Users will be able to connect with users around the globe using an advanced visual search tool and a new blockchain environment.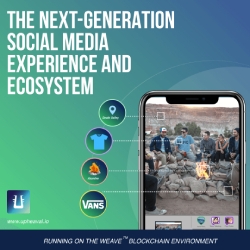 Washington, DC, May 01, 2019 --(
PR.com
)-- Upheaval, a blockchain-based social experience app, today announced the launch of the investor portal for their AI-powered object recognition application and platform. The app can be used to connect with like-minded people around the world, and server-based
AI and machine learning
are used to suggest more interests to the user.
"We're very excited to open our investment portal today, enabling qualified investors to participate in this exciting inflection point of technology and opportunity. We've made a lot of progress already, but today is an important milestone in realizing our vision," said David Iseminger, Founder and CEO of Upheaval.
Just like Google organized the Internet for search, and Amazon organized products for shopping, Upheaval organizes the physical world for engagement. The holistic offering from Upheaval consists of:
1. An app for users to experience connecting with the physical world with their handheld devices
2. An ecosystem-driven by research that deepens engagement and long-term user investment
3. An environment consisting of a patent-pending new blockchain technology called the Weave, and
4. A self-driving economy that runs solely on Upheaval cryptocurrency - the UPC.
All interactions and value exchanges use the UPC. There are a finite number of UPCs being created, which means that as the Upheaval economy thrives, demand for UPCs will increase.
Upheaval users can open the app to detect objects, events, interests, and locations using the device's camera, and find results that give background information on the detected object, as well as an individual feed populated with user posts from around the world. The app will feature three categories of feeds: "My World" for a user's profile and saved list of interests, "Their World" for other user profiles they can follow and "Its World" for object feeds. Machine learning and an internal AI-driven semantic association engine will analyze user behavior on the app and produce relevant results and suggestions for each individual user.
Ads are presented with the objects detected, creating an opportunity for advertisers to sell on the platform in ways that are targeted and relevant to the user's moment. Businesses can engage with Upheaval to become affiliate partners and place their item for purchase directly on the Upheaval app. Businesses and organizations can also gain access to deep analytics data that the platform gathers and will make available to subscribers. And the Weave blockchain environment ensures that ad impressions and deliveries are accurate, immutable, and traceable.
"An important aspect to Upheaval's offering is the problems it solves for advertisers, businesses, and user. Advertisers have access to targeted moments for users, and better yet, they also get true, immutable data on the reach of their campaigns. The entire combination of ecosystem and environment is designed for better returns for advertisers, better insights for businesses and social selling efforts, and a much, much better and engaging user experience connects people with their friends and their interests in the world around them, in a way that's never been done before," said CEO David Iseminger.
Upheaval's vision includes a robust and extended outlook for growth, expansion, and deep user- and partner-engagement. On the surface, the app, ecosystem, and blockchain environment create an exciting and engaging experience that users will crave, with research-driven experiences that draw them into daily use. These are authentic, beneficial interactions that users will look forward to and enjoy.
Users can gain recognition for their expertise by posting frequently about an object and being upvoted by other users. When users scroll through feeds, they'll see which users are considered experts, and can give more weight to their comments, or even follow those users to expand their network and their knowledge.
Harmful behaviors such as hate speech can be easily traced on the blockchain, resulting in a swift response from Upheaval. Using blockchain technology to create a social platform also ensures better privacy and security of user information. The technology renders the data immutable and lowers the risk of bots or fake profiles on the network.
These features foster an environment that protects users and partners and generates a safe environment where connections between users, objects, locations, and interests can flourish and expand. Upheaval's patent-pending high-performance blockchain will define what robust, performant, expansive, license-ready distributed ledger technologies can achieve.
To learn more about Upheaval, UPC, or the Weave technology, contact Upheaval at inquiry@upheaval.io or visit the website at https://www.upheaval.io/. You can also watch upheaval video at https://www.youtube.com/watch?v=BSU0B0Jg3k0
About Upheaval
Upheaval is the next-generation social media experience and ecosystem. Upheaval transforms how we interact with others, and with the world around us. Users will be able to detect objects in the real world with their devices, then automatically post about them on Upheaval and other social media outlets. Upheaval categorizes, analyzes, and inventories the universe of objects, creates feeds for each, then tailors the online experience to build new and deeper connections among users and their shared interests. All while ensuring user data is protected and appropriately private. Using a visual detection experience, patent-pending AI, and new high-performance patent-pending blockchain technology, Upheaval puts the universe at your fingertips.
Contact
Upheaval LLC
David Iseminger
425-501-4993
https://www.upheaval.io

Contact