Curatio Named to MM&M's 2019 Top 40 Healthcare Transformers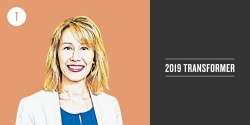 New York, NY, May 07, 2019 --(
PR.com
)-- Today, innovators from all across the health-tech sector are gathering at an awards reception in New York City. Medical, Marketing, and Media (MM&M), has revealed its 2019 class of Top 40 Healthcare Transformers and Innovation Catalysts, the media brand's honor roll of visionaries, gurus, and self-starters bravely working to bring about change in the healthcare industry.
As the healthcare industry continues to advance, it looks increasingly towards technology to bring about change and innovation. The result of this partnership between the two industries is improved practice from healthcare practitioners, and increased patient engagement and care. Healthcare providers and patients worldwide will continue to benefit through technological advances in the worlds of pharma and healthcare.
"This year's class of Transformers reflects the tremendous growth we're seeing in medtech, as well as a more holistic approach to health in general," said Stephen Madden, MM&M's editor-in-chief. "And as always, it's pretty amazing to see how many very smart, creative people are working to help communities manage and improve their health."
Among the Healthcare Transformers awarded are:
Lionel Bascles, Senior VP, global head of clinical sciences and operations, Sanofi
Kyle Holen, Head, development design center, AbbVie
Robin Roberts, Cofounder Novartis Biome, head of strategy and innovation, Novartis
Lynda Brown-Ganzert, Founder and CEO, Curatio
According to a recent report from Definitive Healthcare's 2019 Annual Healthcare Trends Survey, healthcare consumerism and patient empowerment are expected to be on the rise in the healthcare industry this year. "As patients bear more financial responsibility for their own healthcare, they are demanding more of their providers. Patients are transforming into healthcare payers who are keenly searching for the lowest cost, best value, and highest level of convenience with regards to their care."
Patients are continuing to become more aware of their choices and options with regards to their health, meaning that healthcare organizations need to undergo a shift towards a patient-centered approach and more positive consumer experience. Technology plays a strong role in this shift towards patient-focused care by making health tools, education, and social support available directly to the hands of patients. Published clinical results have shown that private, personalized online peer groups created around health conditions and goals can not only meaningfully improve outcomes, but also provide a more valuable way to address patient acquisition and retention. In a study of patients living with a chronic disease who used Curatio, researchers found statistically significant improvements, with 80% of users showing an increased interest in self-management, 75% showing improved health behaviours, and 71% showing improved social integration. By placing the patient as the centre of focus, healthcare providers will see a more engaged and empowered patient population.
Similarly, opportunities for advancement in health-tech also lie in patient-focused initiatives. A recent review of rising trends in health-tech outlined Artificial Intelligence and patient support as some of the key trends to watch out for (Buttice, 2019).
An analysis from Frost & Sullivan, Artificial Intelligence & Cognitive Computing Systems in Healthcare projected AI as a disrupting technology with an estimated annual growth of 40% through 2021 in the AI health sector alone. The report also stated that AI has the potential to improve outcomes by 30 to 40 percent while cutting treatment costs by as much as 50 percent.
AI-powered chatbots are one such initiative being explored by health-tech companies worldwide, and are becoming more and more intelligent daily. These chatbots can go a long way toward assisting patients in need in their own way, and can help to address the various emotional and psychological needs of patients.
As one of the Healthcare Transformers named by MM&M, Curatio is proud of our role in advancing health-tech and bringing about change in the industry. Today, Curatio is being used by patients in over 85 countries and 4 languages. Using a unique combination of AI and matchmaking, Curatio's work with pharmaceutical companies worldwide has established itself as the ultimate solution for patient engagement, adherence, and retention.
MM&M's Transforming Healthcare Conference will see these leaders in pharma and healthcare coming together in a convergence of the worlds of health-tech startups, VC, and all of the big healthcare industry stakeholders. The conference will feature talks by high-level Transformers, discussions on integrating new technology with old, and thought-provoking panels aimed at advancing the future of the health-tech industry.
To learn more about how Curatio can help you deliver social support and disease management at scale, connect with us today. Curatio can help you deliver better engagement to your patient populations with private social networks designed specifically for healthcare.
Contact
Curatio
Lynda Brown-Ganzert
604-340-7997
https://curatio.me
Book a demo: www.curatio.me/connect

Contact