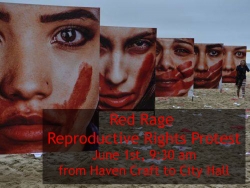 Las Vegas, NV, May 30, 2019 --(
PR.com
)-- On Saturday, June 1st, from 9:30 am onwards, protesters in red will march for the reproductive rights of all persons, from the Arts District to Las Vegas City Hall.
The Red Rage Reproductive Rights Protest is put on by Haven Craft, a nonprofit interfaith and intercultural community center located in the Arts District of Las Vegas.
Participants will gather in a statement against forced birth extremism, birth coercion, and all that it connects to - the gendered violence against women and trans women, the treating of uteri as property of the state, the disenfranchisement and dehumanization of the poor and the homeless, the missing and forcibly sterilized, the institutionalized rape culture, the criminalization and stigma of sex work, and the sexualization and expectation of adulthood placed on assigned female at birth children.
All participants will wear red - red body paint, red pasties and g strings, red hand prints, red ballgowns, red handmaid costumes, just *red* - in solidarity with everyone who will suffer, bleed, and die if these interlocking human rights violations are not addressed.