New York Long Island Tree Service is Fully Equipped and Prepared for Emergency Tree Removal When Strong Winds Take Down Trees This Year 2019
The company has the crew fully loaded and ready to remove trees from the road when wind storms knock them down and cause problems for residents.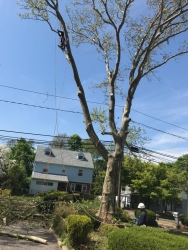 New York, NY, June 04, 2019 --(
PR.com
)-- There is no doubt about the fact that the weather in Long Island is highly unpredictable; people can leave their homes dry and return drenched from the rain. Same goes for the strong wind storms that can cause a lot of destruction if necessary measures are not taken and one such measure is to take down dangerous trees beforehand. If there are trees alongside the road, in people's backyards, or in public parks, during a wind storm they can fall on people or on the road and cause massive damage. This is where New York Long Island Tree Service comes in with its emergency tree cutting service where they can remove a tree with same day service.
The company has been working towards the safety and convenience of the people of Long Island and all counties of New York by removing dangerous and destruction causing trees before a storm hits the area. This way, people can stay in their home and wait for the strong winds to pass without having to worry about a tree falling on them. New York Long Island Tree Service provides all kinds of services including tree trimming, tree pruning, and emergency tree cutting, and the best part is that their tree removal cost is highly affordable.
There are several predictions of strong winds hitting Long Island and several New York counties in 2019; therefore, New York Long Island Tree Service is available to help people remove trees from their backyards that can fall on their homes or cut their power wires. This means people don't have to search "tree service near me" they can just call New York Long Island Tree Service and get their tree removal services at highly affordable costs.
New York Long Island Tree Service played a major role in removing knocked down trees from the roads when strong wind storms hit Suffolk and Nassau counties at the start of this year. Furthermore, they were the only ones who were also providing emergency tree cutting and removal services during the storm so that people could safely travel to and from their homes without worrying about a tree falling on them.
The efforts of ensuring public safety by New York Long Island Tree Service have been appreciated by the residents of New York and Long Island and that is what motivated them to keep providing their professional emergency tree cutting services this year as well.
To know more about New York Long Island Tree Service or to procure their services, contact them via 516-4767249 or visit their website
https://www.findlocaltreeservice.com
About New York Long Island Tree Service:
New York Long Island Tree Service is a fully licensed and insured arborist that is located in New York. With years of working experience and top-notch service, they have become one of the finest tree cutting and maintenance service providers in New York. They provide both residential and commercial tree services and also offer emergency tree removal service with rapid delivery.
Media Contact:
Company Name: New York Long Island Tree Service
Contact Person: Mike Randazo
Contact No: 516-4767249
Email: Treecare111@outlook.com
City: New York
Website: https://www.findlocaltreeservice.com
Contact
New York Long Island Tree Service
Michael Randazo
516-476-7249
www.findlocaltreeservice.com

Contact