Colorado Man Builds Boat to Pedal Around the World Chasing World Record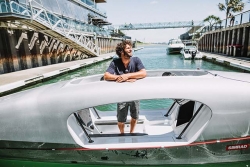 Denver, CO, June 12, 2019 --(
PR.com
)-- On April 1, 2020 Paul Spencer will leave Jinji Cycles in Denver, Colorado on his bicycle, starting his journey pedaling around the world by bike and boat. In his quest to break the Guinness World Record of the Fastest Human Circumnavigation of the Globe, Paul will pedal over 60,000 miles, many of those over the ocean in a custom-built ocean pedal boat.
Citing cutting carbon emissions and climate change as drivers for his project, Paul is passionate about showing the world that cycling is fun and can be done almost anywhere.
"Riding a bike around the world has been a lifelong goal," said Spencer. "I want to promote the importance of travel by bicycle and show people that with hard work, anything is possible."
Paul will also be promoting the Lupus Foundation, raising funds and awareness for the organization to honor his sister who has Lupus.
Another exciting addition to the trip is the idea of using electric-powered support vehicles, keeping the carbon footprint low.
Spencer is no stranger to seemingly impossible challenges. He has already held 3 Guinness World Records, including:
2010, Guinness World Record: Fastest Cycle Across the USA, N-->S, W-->E
2013, Guinness World Record: Fastest Cycle Across Europe, N-->S
2017 Guinness World Record: Fastest Cycle Across Europe, E-->W
In preparation for his expedition, Paul is training in his hometown of Denver, CO. He is also working with New Zealand boat builders, LOMOcean Design, customizing an ocean pedal boat which will need to endure the challenging ocean crossings.
"I know the most difficult part will be at sea. We are designing a one-of-a-kind ocean pedal propulsion system in what has to be the most unique boat in the world. It has never been done before."
To help fund the trip, Paul has launched a crowdfunding campaign through Indiegogo. The site details the boat design and offers fun perks for people who support the campaign.
"I want this record to be a collaborative effort, and I hope people from all over the world will join me on legs of the ride."
To see the map of Paul's trip, visit his website: www.pedalroundtheworld.com and visit his crowdfunding campaign to learn more about the boat: https://igg.me/at/pedalroundtheworld
For Media Inquiries, please contact: Heidi Rose Buckhout: 303.668.9272, Heidi.rr@gmail.com
Contact
Heidi Rose Media
Heidi Rose Buckhout
303-668-9272
heidirosemedia.com

Contact