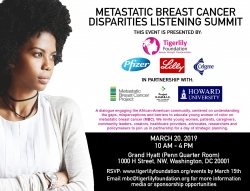 Washington, DC, June 28, 2019 --(
PR.com
)-- Disparities Event Convenes Patient Advocates, Healthcare and Industry Leaders and Grassroots Organizations for National Conversation to Change the Landscape for African Americans.
Approximately 150,000 people in the U.S. have metastatic breast cancer (MBC), which annually claims more than 40,000 lives. The African American community is disproportionately impacted by MBC yet have lower enrollment in clinical trials and are often underrepresented in the conversation on the unique needs of women living with MBC.
Tigerlily Foundation is leading the charge to make an impact on MBC related concerns and young women of color, by hosting the first ever Metastatic Breast Cancer Disparities Listening Summit on March 20, 2019. This unique forum gave young women of color a platform that was different from the norm - they voiced their needs as the experts, while industry, healthcare and policymakers listened.
Young women, MBC patients, caregivers, advocates, navigators, healthcare providers, researchers, policy makers, civic, campus, community, local, national and global organizations, bloggers, creators, radio and television personalities, social media influencers and local media gathered in the nation's capital to take this first step in engaging a population that faces multiple disparities – as young women, and women of color, living with MBC.
The first-ever Young Women's Metastatic Breast Cancer Disparities Summit engaged a wide range of stakeholders, focusing on the African American community, and was a dialogue centered on understanding the gaps, misperceptions and barriers to educating young women of color on MBC. The summit highlighted ways to bridge the gap between young women of color and healthcare providers; and the importance of giving young women of color a "place at the table" at scientific, policy, healthcare and media forums related to MBC. Insights and recommendations shared are being applied to create culturally sensitive grassroots materials to mobilize young women of color with education and tools to reach a community that has high breast cancer mortality rates.
"We are excited to have elevated the conversation surrounding young women of color and metastatic breast cancer. At the first ever Young Women's Metastatic Breast Cancer Disparities Summit, we had powerful conversations around Collaborating to Accelerate Impact, Diversifying Clinical Trials and Advancing Access to Innovation, and addressed individual, community and policy issues. We look forward to working together to change outcomes for young women of color and helping to lower the mortality rates for this population. We are thankful to our partners, including Pfizer, Lily, Celgene, the Metastatic Breast Cancer Project at Harvard University, Project HUMBLE, Howard University, and the IRIS Collaborative for working with us on this important initiative." - Maimah Karmo
Speakers at this event included:
· Maimah Karmo, President & CEO, Tigerlily Foundation
· Dr. Janeen Azare, Oncology Field Medical Director, Breast Cancer, Pfizer, Inc.
· Brandon Garrett, Chief Operating Officer, National Minority Quality Forum
· Shonte Drakeford, RN, MBC Advocate
· Kimberly Alcantara, MBC Advocate
· Lori Wilson, MD, FACS, Division Chief of Surgical Oncology, Howard University, MBC Advocate;
· Ruth Travis, Breast Cancer Advocate
· Keith Gregory, MBA, Senior Director Radiation Oncology Operations, Inova Schar Cancer Institute
· Jasmine Jones, Founder & COO, Cherry Blossom Intimates;
· Tammy Boyd, MPH, JD, Chief Policy Officer, Black Women's Health Imperative
· Regina Hampton, MD, FACS, Medical Director, Doctors Community Hospital
· Sara Horton, MD, Oncologist, Howard University
· Shalewa Noel-Thomas, MPH, PhD, Chief, Cancer and Chronic Disease Prevention Bureau, DC Department of Health
· Jacqui Wong, U. S. Representative Debbie Wasserman Schultz's Office
· Markette Sheppard, Host of Great Day Washington, WUSA9
· David Lacks, Jr., Henrietta Lacks' Grandson
· Shyrea Thompson, The IRIS Collaborative, Founder & Principal
· Dr. Irene Rainvinelle, Genetic Counselor and Medical Information Liaison, Myriad Genetic Laboratories
About Tigerlily Foundation
Tigerlily Foundation is a leading national breast cancer organization whose mission is to educate, empower, advocate for and provide support to young women 15-45 - before, during and after breast cancer. This foundation contains more than 300 volunteers nationwide, providing breast health, wellness and transformational programs to young women nationally. To learn more, visit http://tigerlilyfoundation.org.
Follow: @TigerlilyCares Share: #ListenUpMBC