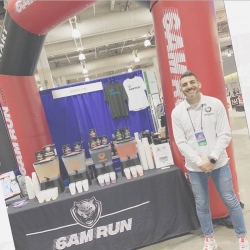 Wilmington, DE, June 27, 2019 --(
PR.com
)-- June 16th 2018. That is the day the very first bottle of 6AM Runs patented formula Marathon sold its first bottle on 6AMRun.com (a Delaware based company). Although the company began formulating Marathon early January 2018, Hami Mahani Founder and CEO stated, "That is our real go live date. Birthday if you will. You can't consider yourself an actual business until a non friend or family member goes online or in your storefront and gives you that first dollar of business. I just wish as actual retailers do we could hang that first dollar up on our wall."
To date, 6AMRun.com has now sold over 10,000 bottles of Marathon to unique runners and has an 85% return user rate month to month, including a subscription service online. Their biggest debut over the past year was no question having 20x20 booths and amazing presence at both the NYC and Boston Marathon Expos the days prior. "We sold so many bottles to first time customers, and were able to truly educate these amazing enthusiasts why our product is superior," Mahani said. As their online videos show, their booth never slowed down, always having 5-10 runners learning and sampling. Also to note, 6AM Run had 13 runners use the product in NYC, followed by 30+ use it in Boston. In terms of "Pro" runners who do these major events, 6AMRun.com now is in a position that they have 10+ Fully Sponsored Athlete Runners who obtain their supplements at no cost.
Among other accomplishments this year has no question been Amazon. Amazon has skyrocketed their growth. Already 6AMRun Marathon is an Amazon Choice/preferred product, averaging 5 stars, and all 6AM items are on Prime. Allowing their customers next day delivery for races in most cases. "Amazon is crazy! If you Google 6AM Run Reviews, Amazon is the first link that comes up and they are going toe to toe with our own website in a great way. The credibility they have awarded us with naming us an Amazon Choice really validated the quality of this product for sure," Mahani also said. So much so, 6AMRun.com, since the NYC Marathon has been offering every sale a 100% Money Back Guarantee. They guarantee taste and results.
Maybe the best thing 6AMRun.com did this year was start a Facebook Group of/for their runners. When you go to www.Facebook.com/groups/6amrun you will see a group of 2000+ runners who use, and post inspiring messages all day to each other. "Oh my god, the group is the most amazing part, and it really has little to do with the 6AM Products, and is more about a group of amazing people uplifting one another every day," said Hami Mahani. Every week they also award a "Runner of the Week" a Free bottle of their choice from the group.
The first year 6AMRun.com has had is for sure indescribable, but it is expected when you study it. There truly has never been a supplement like this on the market. One that was truly formulated for a runners needs only. Bulky creatine, and protein infused pre-workouts don't help runners recover mid run, and stay light on their feet. 6AM Run's products use of green tea, and 12 unique aminos prove this. "The Pre and Post workout is a fabricated myth by supplement companies trying to sell more products. We show our clients how each of our formulas help you in every stage possible. Especially in distance running when your body is depleted, and you need those aminos in you right then and there. Why would you wait till your done? Also so you can like most runners want to recover and run 7 days a week," Mahani stated.
What a first year for 6AMRun.com indeed. To continue to follow their story everything can be found on 6AMRun.com