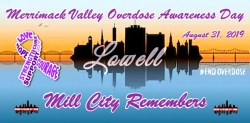 Lowell, MA, July 15, 2019 --(
PR.com
)-- HIKMT, Inc. will present Merrimack Valley Overdose Awareness Day - taking place at Sampas Pavilion, DCR – Heritage Park, 160 Pawtucket Blvd., Lowell, MA on August 31, 2019 at 6:00 p.m. and featuring Ritchie Farrell, Writer/Producer of "The Fighter" and HBO's documentary film: "Lost Lives in Lowell, High on Crack Street" and Diane Hurley, Founder of Black Balloon Day as guest speakers with musical performances by:
Daphne Willis (Somebody's Someone)
https://youtu.be/uGgN9vMPUn8
; Daphne's music cleverly incorporates such inspirations into a style that is refreshing and contemporary in a way that suits her songs best, and;
Justin Clancy (The Bottom Line)
youtu.be/EsugnMisO3Y
; Justin is a local artist in recovery from the Northshore. His debut album, "The Color Blue" just hit 500K.
HIKMT, Inc. is proud to bring International Overdose Awareness Day to Lowell for the first time and the Merrimack Valley Overdose Awareness Day event will include resources from across the region.
"Every day, we see lives around us being changed and lost to overdose. Overdose does not discriminate – it could be you or someone you love, a friend, colleague or your neighbor. This year on International Overdose Awareness Day, Merrimack Valley needs our support. Get involved to prevent the tragedy of overdose. Knowing how to prevent overdose does make all the difference. By joining us on August 31st at 6 p.m. for an overdose awareness and memorial vigil you will come to understand how this affects each one of us. Come join us to remember the loved ones we have lost. It's time to Remember. It's time to Act." - Dina Favreau, Executive Director of HIKMT, Inc.
Video Vigil Photo Submissions Due by August 10th - email a clear photo of your loved one, with their name, age and where they were from to msoa.videovigil@gmail.com
Event is free and open to the public. To RSVP:
www.facebook.com/events/2342337402453817/
Event is Sponsored By: Greater Lowell Health Alliance, Simple Paths Recovery, Northeast Addictions Treatment Center, Recovery Centers of America and Swift River
Heroin is Killing My Town, Inc. (HIKMT, Inc.) was founded in 2014 and is a Massachusetts registered 501c3 nonprofit and grassroots volunteer coalition comprised of Peer to Peer Recovery Support and Community Outreach and Awareness Services. Currently, we represent over one hundred thousand Massachusetts and US residents that are impacted by the current heroin, fentanyl, opioid and overdose epidemic.