The Silked Pillow Sleeve Joins the New Beautycon POP Family at This Year's 2019 Beautycon Festival in Los Angeles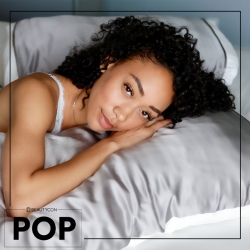 Los Angeles, CA, August 14, 2019 --(
PR.com
)-- Silked, is excited to announce their participation in Beautycon's first-ever online retail store Beautycon POP. The Beauty Bedding innovation, The Silked Pillow Sleeve made it's debut to a highly engaged Beautycon's fanbase this past weekend August 10th & 11th at the LA Convention center inside Beautycon POP | Moj Mart. The Festival unveiled its exclusive line of curated innovative products to be rolled out on Beautyconpop.com, their newest direct-to-consumer storefront.
Beautycon fans step into an experiential beauty store called the Moj Mart where they were able to shop for innovative products, watch Euphoria-inspired makeup tutorials, be a part of exclusive product drops & more. The Silked Pillow Sleeve checked all the boxes Beauty Fans were looking for while traveling and at home: taking care of the skin, hair, it's hypoallergenic and compact. The Silked Pillow Sleeve is 100% mulberry silk charmeuse on the front and stretch jersey on the back. It's designed with open-ended sides that easily slips over most standard, queen or king pillows. This beauty bedding innovation helps eliminate sleep lines, wrinkles, and bedhead caused by sleeping on cotton. Whether you're traveling to Bali or on a stay-cay, The Silked Pillow Sleeve will protect your hair and skin from the harsh elements.
"Beauty is in the bed of the beholder." For Silked co-founders, female entrepreneurs and friends, Phoenix Gonzalez and Sandra McCurdy, silk was never a beauty secret, but a constant nightly ritual that their Afro-Caribbean mothers performed to promote manageable hair. Phoenix and Sandra wanted to create an easy and accessible way to share this age-old, age-defying secret with the world and in April 2017 they established Silked in Los Angeles, California.
"We are honored to have been chosen by Beautycon POP to take part in their new e-commerce store," says co-founders Sandra McCurdy and Phoenix Gonzalez. Our goal is to provide consumers with an affordable way to protect and nourish their hair and skin, while at home and away with a POP!"
Driven by a desire to share a more environmentally responsible, innovative, and travel-friendly Pillow Sleeve that would offer a convenient and versatile way to boost beauty sleep; they launched direct-to-consumer in 2018 to test the market and in just 1 year the brand is becoming a household name. Silked continues to push the boundaries of what beauty bedding looks like and has refined and enhanced their very own open-ended, eco-conscious pillow sleeve design for all skin and hair types in satin or mulberry silk with vibrant patterns and classic tones.
About Beautycon POP:
Beautycon POP is the first experiential pop-up from the team that brought you sold out events Beautycon LA and Beautycon NYC. POP is designed for discovery, community, picture-perfect moments and is the ultimate destination for self (and selfie) expression. To visit the store visit beautyconpop.com
About Silked:
Silked was founded in Los Angeles, CA., by Phoenix Gonzalez and Sandra McCurdy. The company's innovative beauty sleep products, Silked Pillow Sleeve, offer consumers the beauty benefits of silk and satin for skin and hair with the convenience of an open-ended pillowcase design that easily slips over any standard, queen or king pillows, making them perfect for home or travel. You sleep; Silked does the work! To learn more about their exciting new beauty sleep bestie visit
https://silked.co
Contact
Silked
Phoenix Gonzalez
(323) 538-1440
silked.co
silkedco@gmail.com
323-538-1440

Contact