These Black Modern Cabins from sheet/rockLA Are Redefining the Big Bear Experience
So long carved bears and log cabins: modernity and minimalism arrive at Big Bear Lake, California via Colorado Lodge.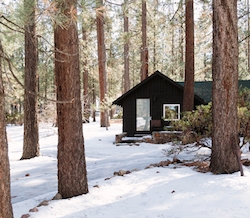 Big Bear Lake, CA, August 15, 2019 --(
PR.com
)-- Los Angeles-based, design and development firm
sheet/rockLA
announces Colorado Lodge in Big Bear, a hospitality venture marrying classic mountain lifestyle and thoughtful minimalism. The project, a collaboration with Los Angeles landscape architecture firm
Terremoto
, is a total transformation of the compound of 1920s-era housekeeping cabins that highlights the design-centric capabilities of simple materials, the area's natural alpine surroundings, and embraces ever-changing sensibilities while respecting the past.
The Lodge features five unique, renovated cabins and sits on nearly two acres with a natural creek traversing the site. Tucked away amid tall pines, and situated between Snow Summit and Big Bear Lake, the Lodge is a secluded retreat, while within walking distance to the small resort city and lake, a year-round destination. "We're only a block away from the main boulevard," says sheet/rockLA Founder Marcus McInerney. "But because of all the trees, once you're inside the compound you feel like you're completely in the woods."
The Modern cabins feature a new minimalistic jet black exterior and stargazing decks, welcoming the modern Big Bear adventurer. Vintage signage and the cabins' original facades embrace the Lodge's history; the area's known for its log cabin structures dating from building booms in 1920s and 1960s. New interiors include full kitchens and bathrooms, vaulted ceilings, and are clean, comfortable, and simple so as not to detract from the natural surroundings. "Our approach is to have these clean, modern boxes feel as though they were dropped into the woods. The whole concept is about using natural materials - like what you see outside your front door here - but in an abstract, modernized way," explains McInerney.
Constructed nearly entirely of Baltic Birch Plywood, the interiors take their cues from Scandinavian design. Interior paneling employs a design technique uncommon to the area, in which no moldings are used to hide seams and instead panels are aligned directly with one another. "Our contractor thought we were crazy. It's Baltic Birch butted up against Baltic Birch so it had to be perfect," notes McInerney.
The remaining interior design elements were informed by the natural surroundings as well. White rolled linoleum flooring with a speckled black pattern references a fresh blanket of winter snow atop sticks of mulch. Commercial space-age composite countertops with a rock inlay pay homage to the stones just beyond the cabin door. Operable casement windows allow for conversation with nature, and between cabins.
Outside, additions to the compound are elemental, abstract and functional. "We want to create non-specific plateaus which allow for interpretation and as ways of simply letting people be outside, enjoying nature," notes Terremoto Co-Founder David Godshall. Fractal wood partitions are carefully positioned floating between trees, creating additional boundaries between the compound and the rest of the world. "They interact with the existing trees onsite in interesting ways, like the shadow play from the dappled light of the trees weaving with our weird forms," explains Godshall. Ultimately, says McInerney, "we want guests to have another experience in Big Bear. Not necessarily the traditional rustic thing which feels like you're in your grandma's house - but to be in a calm clean space you want to spend time in and read a book."
Colorado Lodge is taking reservations. Phase II of the project is slated for Spring 2020 with the Lodge's remaining 4 cabins set for renovation, along with the addition of wrap-around decks, a bridge transversing the creek, and more.
For additional images, please visit: https://www.dropbox.com/sh/m6oryt7euvhmcic/AAAmJgwvgGJm47zCcxRlqlD_a?dl=0
Based on the Eastside of Los Angeles, sheet/rockLA develops projects including ground up construction and design consulting services. Colorado Lodge in Big Bear is sheet/rockLA's third hospitality venture. In 2016, they developed TheKentLA, four charming bungalows in Los Angeles' Echo Park neighborhood. For their second project, they unveiled @NightMoves_JT, a minimalist desert retreat at the base of Joshua Tree National Park. sheet/rockLA has also developed various residential projects throughout Los Angeles. Photo credit: Lauren Moore. Additional information can be found at http://thecoloradolodge.com.
Contact
sheet/rockLA
Marcus McInerney
323-316-6226
http://sheetrockla.com

Contact