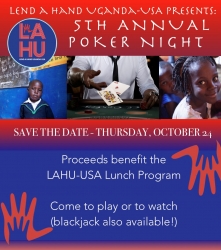 New York, NY, October 10, 2019 --(
PR.com
)-- On Thursday, October 24, Lend a Hand Uganda-USA (LAHU-USA) will be hosting its
Fifth Annual Poker Tournament
at Kellogg's NYC to raise money for the expansion of the organization's new, and already thriving Community Farm Project in Mwererwe, Uganda.
Last year's event raised $9,000 which enabled the organization to complete the latrine project. Meeting this year's fundraising goal of $20,000 will enable LAHU-USA to improve and expand their lunch program and help feed more marginalized families in the Mwererwe community.
Players can join at multiple levels, starting with the most basic: an individual poker buy-in for $200, with multiple drink package options for wine and beer or signature cocktails with an additional donation. There are many exciting prizes to be won and the top prize of the night includes a seat at the 2019 Poker4Life Lucky "13" Annual Charity Poker Championship.
All proceeds from this event will go towards the installation of an irrigation system in the community farming project which was launched in May of this year.
"We are more than excited being able to feed more children in marginalized areas, which helps keep them in school. Our goal is to bridge the gap of poverty from a very young age through education and feeding the stomach," says Harriet Zaffoni, founder of LAHU-USA and CEO of Harkiss Designs, a socially-conscious enterprise based in New York. "We are looking forward to some competitive poker playing - but if that's not your game, we'll also have blackjack and entertainment." Tickets can be purchased by visiting http://www.lahu-usa.org/events/pokernight2019
The benefit will be held at Kellogg's NYC, 31 East 17th Street, from 6:00 p.m. to 10:00 p.m. Cards fly at 7:00 p.m.
Sponsors include Cohen Schneider, Hunter Digital, X-Act Contracting Corp., Advanced Corporate Solutions, and Third Rail Photography, among others. For sponsorship opportunities please email events@lahu-usa.org
LAHU - USA is a registered 501(c)(3) non-profit organization, based in New York City. LAHU-USA is committed to facilitating empowering, sustainable change in both urban and rural Uganda. They strive to give community members the tools, training, and support to maintain and grow each project; and believe that this holistic approach fosters permanent change that will improve lives. They do so by fostering one school and community at a time through education and more.
For more information about LAHU-USA, please visit www.lahu-usa.org, Twitter or Facebook @LAHUUSA, or follow #LAHUUSApokernight