New Study Confirms TwitchView® Quantitative Monitor for Neuromuscular Blockade is Comparable to Gold Standard Mechanomyography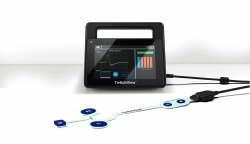 Seattle, WA, October 18, 2019 --(
PR.com
)-- Blink Device Company announced today that a study comparing the TwitchView® quantitative train-of-four (TOF) electromyography-based monitor to accelerometry and mechanomyography has been published in the journal Anaesthesia (
https://onlinelibrary.wiley.com/doi/10.1111/anae.14872
). The results demonstrate that the TwitchView monitor closely resembles mechanomyography, often considered to be the laboratory gold standard, while accelerometry frequently produces train-of-four ratio values > 1.0, complicating the interpretation of acceleromyography results in the clinical setting.
Justin Hulvershorn, MD, PhD, Blink's CEO said, "Neuromuscular blocking drugs are used in almost 50% of surgeries. The literature shows that, in the absence of quantitative monitoring, nearly 4 out of every 10 patients will wake up from these surgeries with residual paralysis, which delays recovery and can lead to significant complications. To help prevent these complications, quantitative neuromuscular monitoring is becoming the standard of care when neuromuscular blocking agents are administered. In the past, monitors have been difficult to use and have not performed reliably. We developed the TwitchView to make quantitative TOF monitoring as accessible as monitoring other vital signs, like blood pressure or oxygen saturation."
Andrew Bowdle, MD, PhD, the study's lead author noted, "Our research team at the University of Washington has spent the last two years studying a wide range of quantitative TOF monitors, as well as using these monitors in routine patient care. TwitchView is very accurate and reliable, as shown in our study. Other devices that we tested had significant shortcomings. The TwitchView is very easy-to-use and, unlike acceleromyography, functions reliably even when the patient's arm is tucked for surgery. We are in the process of implementing TwitchView in the UWMedicine hospitals as our standard for clinical care."
About Blink Device Company
Blink Device Company is headquartered in Seattle, Washington and their products are proudly made in the USA. To learn more, visit
www.blinkdc.com
.
If you would like more information, please email Elise Hyman at elise.hyman@blinkdc.com.
Contact
Blink Device Company
Elise Hyman
(312) 852-0064
www.blinkdc.com

Contact