Miura Board(TM) Debuts in City of Gainesville Public Park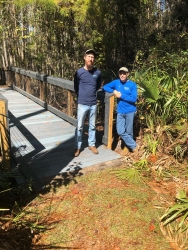 Gainesville, FL, November 06, 2019 --(
PR.com
)-- Miura Board(TM) was chosen by the City of Gainesville after thoroughly evaluating and testing several alternatives to wood. Don Musen, Natural Areas Maintenance Supervisor of the Parks, Recreation, and Cultural Affairs Department stated the following, "I can finally build ramps and boardwalks I won't have to replace before I retire, thanks to Miura Board."
Miura Board(TM) is a newly introduced 100% recycled, fiber-reinforced composite at the intersection of plastics, metals, and wood. It exhibits better strength than plastic lumber, reduced thermal expansion, reduced vibration, improved resistance to crystallization at low temperatures, and can be machined, welded, and waterjet. In addition, it's static-free, 100% recyclable, and contains zero wood. Because its properties can be tuned to meet different needs it's ideal for customized OEM products as well as standard-sized lumber replacement boards.
About Athyron LLC
We created our company to save the planet from plastic waste, to reduce logging and the use of landfills. While most see plastic waste we see wasted plastic. The difference lies in our approach. The current (and expensive) paradigm equates recycling with separation. We go directly from mixed plastics and fibers to a finished product. It's the most scalable and low-cost way to conserve natural resources while extending the useful life of man-made materials. Cut waste, not trees(TM) is our motto.
Miura Board(TM) is made by Athyron LLC in Kountze, TX by a proprietary process of blending, extruding, and rolling mixed plastic scrap with post-consumer carpet.
Contact
Athyron LLC
Alfredo Faubel
409-200-7110
https://www.miuraboard.com

Contact