Lily Lisa, Philanthropist, Fashion Icon Joins the Powerful Giants Behind China's 20-Year-Old Wealth Creation
Lily Lisa Brand joins in sponsorship of Hurun Report's 20th Anniversary Celebration and the annual "China's Most Respected Entrepreneur" award ceremony held in Beijing.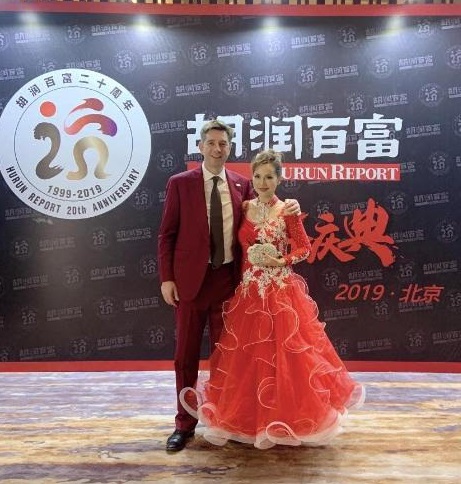 Hollywood, CA, November 14, 2019 --(
PR.com
)-- Hosted by the Hurun Report, "China's Most Respected Entrepreneurs Awards Dinner" is commemorated by the Hurun Report's annual issue. The award of the highest standard assesses the influence of Chinese entrepreneurs of the year, subject to a wide range of business, and media attention.
Lily Lisa, wearing her Collections' Brand design and cosmetic line was on stage to select and present a lotto winner with a sweet collection of Lily Lisa Brand Cosmetics.
Special guest, Lily Lisa was proud to be a part of this year's ceremony, witnessing the announcement of the highest honors of Hurun Report's list of dozens of well-known Chinese entrepreneurs, executives, artists, designers and authoritative media being named Most Respected in their field. Friends from home and abroad, gathered together to celebrate the 20th anniversary of Hurun Report.
Hu Run, said in his speech that the original intention of the "Hurun Rich List" was to hope to gain insight and promote entrepreneurship through quality.
Sinclair Lu, President and Group Publisher of Hurun Report, said that since its establishment in 1999, Hurun Report has been committed to promoting entrepreneurship, working with wealth creators, helping entrepreneurs to achieve their dreams and building a high-end quality lifestyle ecosystem.
Since its establishment in 1999, the "Hurun Rich List" has taken a snapshot of China's private economy and entrepreneurs. From the initial 50 people to nearly 2,000 today, Hu Run said that the entrepreneurs listed on the list 20 years ago can be said to be the most successful in the region. The entrepreneurs 10 years ago can be said to be the most successful entrepreneurs in China, and today's list of entrepreneurs can already be among the most successful in the world.
Hu Run's live speech, in addition to introducing the Hurun Report, also displayed the "Hurun Global Bank" aimed at building the world's largest international Chinese circle of friends and the "creation era" of more attention to young entrepreneurs.
At the dinner, awards were presented for the total of "Outstanding Contributions to China's Private Economy," "Final Generation," "Most Respected Entrepreneurs," "Most Respected Young Entrepreneurs," "Industry Leaders," "Youth Industry Leaders," and "The Future Star" and many other awards.
Mr. Yan Bin, Chairman of the Board of Directors of Huabin Group, expressed his heartfelt wishes. He said: "This year is the 20th anniversary of Hurun Report. Here, I would like to express my warmest congratulations to Mr. Hu Run and Hurun Report. Congratulations! As a British boy, Hurun came to China, paying attention to the growth and development of Chinese and Chinese entrepreneurs, assessing achievements, seeing gaps, and benchmarking with world-class companies. The China Private Economy Outstanding Contribution Award has been set up very well."
The Lily Lisa Brand Collection was among many of the valuable sweepstakes prizes won by the very elite in attendance at Hurun Report's 20th Anniversary Celebration and the annual "China's Most Respected Entrepreneur" award ceremony, with Ms. Lisa, herself, drawing winning lotto numbers. Executive representatives from the following companies and organizations were on hand to make presentations of their donated prizes: Singapore Airlines China; Shuiyou Rongye; Fuyu Wine Group; Beijing Nuojin Hotel; Yuan Xiaolou's "12 Constellations" was also displayed. The work interprets the connotation of the twelve constellations in contemporary painting language.
The newly released line, Lily Lisa Brand includes fashion, cosmetics, and accessories. The fashion line runs from casual to formal to culturally Chinese in styles. Having taken her time to prepare her line of products, Lily Lisa presents only top quality. Her goal is to present what is the very best and what is best for the client.
"It is indeed an honor to be present here for this exciting evening and to have my Lily Lisa Collection Brand be included among the top of the line prizes," said Lily Lisa
Contact
TRC - The Right Connection
Norma Dalke
310-776-6368

Contact