MonsterBreakBilliards.com - Guarded Secret on How to Professionally Maintain Pool Cues Revealed
With the right pool cue care, one will aim better, win games, and have a longer lasting pool cue and save money. Secret on how to professional maintain pool cues revealed.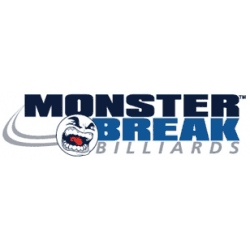 Austin, TX, April 11, 2008 --(
PR.com
)-- There are many variations in the cues that are made. They are dictated by the game itself. Billiard cues are stiffer than pool cues because billiard balls are heavier than pool balls.
Other variations include the type of wood that is used which will determine how light or heavy the cue itself. Some of the cues have graphite or fiberglass as an outer covering. There are mainly two types of pool cues, production cues and custom cues. Production cues are computer designed and produced in a large quantity. Custom cues are handmade from exotic materials, according to individual taste. A typical pool cue is 58 inches long and weighs about 510 to 600 gm. Pool cues can range from around $50.00 to $5,000.00.
Key Consideration For A Lasting Pool Cue
The stock of the stick should be completely straight, never crooked. The tip of the pool cue should be soft and that its size is large and round. Select a stick with a weight that is comfortable. The pool cue case should be sturdy, since this can ensure a long life for the pool cue. The key features of pool cues are exotic hardwood butts, high impact ferrules, excellent playability, and quality construction.
Professional Maintenance Of Pool Cue
Investing on quality accessories will help to properly maintain the pool cue. Different brands of pool cues will require different steps for billiard cue care. But there is some general maintenance that one can follow.
• High-quality scuffer to help shape and scuff the pool cue.
• A tip to help the pool cue take to the chalk.
• Reduce pressure on your pool cue.
• Keep it up on the rack when not in use.
• Get a good pool cue protective case
• Invest on standard repair kits
Online Shopping is the best way to get the best deals, Not only does the Internet allows one to shop with just a click of the mouse, it is actually the best and fastest way to compare prices.
Monster Break Billiards has the largest selection of
pool cues
, cue cases, and billiard supplies on the internet. With a complete line of products available for beginners and professionals, you are guaranteed to find something that fits your budget for your desired pool cues.
###
Contact
Monster Break Billiards
Harvey Vaughn
1-877-346-5006
www.monsterbreakbilliards.com

Contact