Advanced API Enhances StreamSend Subscriber Capability
StreamSend, one of today's leading email marketing solutions provider, today announced the launch of its new Application Program Interface (API). With this robust service enhancement, subscribers can now bundle its award-winning features with their own offering or seamlessly integrate account functions with Content Management Systems, e-commerce shopping carts or other in-house solutions.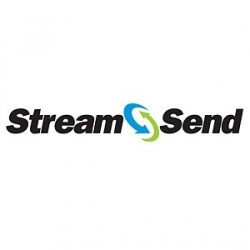 Sacramento, CA, April 15, 2008 --(
PR.com
)-- The StreamSend API uses representational state transfer (REST) style software architecture to allow direct connectivity with core account features via all programming languages – from PHP and Perl, to Ruby on Rails. Once integrated, StreamSend subscribers can import or export profile, subscriber or analytic data, track campaign analytics via in-house applications, remotely deploy email communications via an external Content Management System or automate email subscription and removal processes.
In addition, developers can now incorporate StreamSend functionality into one single login. So companies can bundle, re-brand and re-sell core
StreamSend Email Marketing
features as their own offering, with end-users controlling and managing campaigns through one's own Graphical User Interface.
"With the roll-out of our advanced API functionality, StreamSend dramatically improves, simplifies and expands email marketing possibilities for both clients and resale end-users," explains Dan Forootan, CEO of EZ Publishing, creator of StreamSend.
To learn more about StreamSend's new API capabilities or to sign-up for a free 30-day trial, visit the StreamSend
email marketing
web site.
About StreamSend
The StreamSend Email Marketing Service offers a number of attractive standard pricing plans for marketers. High-volume mailings cost as little as $.0008 per e-mail with a monthly plan.
StreamSend is the most comprehensive and cost-effective permission-based e-mail marketing suite available. The company is proud to provide this powerful email marketing suite to marketers, entrepreneurs and online retailers around the world. StreamSend also has a strong Email Marketing Reseller program.
It all started in 1998, when Dan Forootan founded EZ Publishing, a web hosting and design company. The company quickly expanded, as word spread of the company's comprehensive services, wide-ranging infrastructure, exceptional customer support and honest approach.
But web hosting and design was just the first step. Dan's clients wanted more. Many EZ Publishing customers asked for an e-mail marketing solution to help build sales and strengthen customer retention.
In response, EZ Publishing developed the StreamSend e-mail marketing suite. Because the company had an existing technological infrastructure in place, they were able to offer this powerful new email marketing service at extremely affordable prices. The response to StreamSend has been extraordinary, and it has since become EZ Publishing's flagship product.
###
Contact
EZ Publishing, Inc.
Jim McNulty
508-481-2024
www.streamsend.com

Contact