Modern Sustainability Redefined in Hillside Silver Lake Home from office42 Architecture and Russell Wightman Design
Oasis home re-envisioned to feature 360 degree connection, green roof, and a bio pool where family can forage for water chestnuts.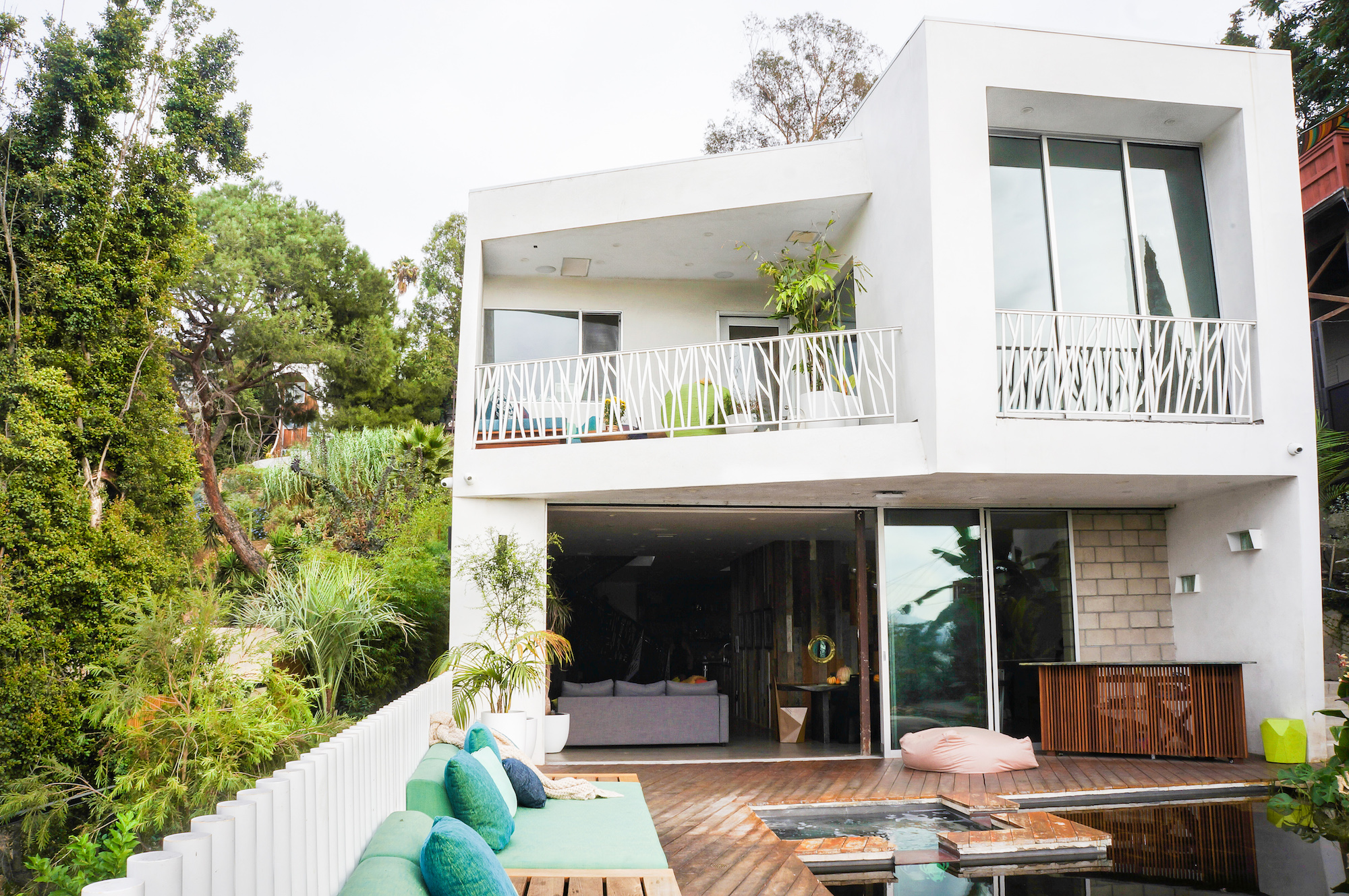 Los Angeles, CA, April 30, 2020 --(
PR.com
)-- Los Angeles-based architecture firm
office42 architecture
, in collaboration with landscape design firm
Russell Wightman Design
, have announced the completion of their "Griffith Park House" in LA's Silver Lake neighborhood, with features that highlight honest design, 360-degree connection, and sustainability. The project is a culmination of a concept dreamt up six years ago by the homeowner, physician Diego Caviano, and his childhood friend, designer Brooks Atwood, whose cramped New York City upbringings had them imagining a day when they could step out of a house and cast headlong into a pool.
The newly constructed, 2,800 sqft, four-bedroom house is built of concrete and glass and sits on a hillside with a sprawling, terraced deck, biological pool, and vegetable garden. There are expansive views of both the iconic Griffith Park Observatory and Hollywood sign. But the home almost never was, as Caivano's plans for the project had become infeasible due to cost. "The first step was to revisit and to solidify key elements of the initial vision," says office42 Co-Founder Stephanie Ragle of taking over the project - a process that involved a number of challenging aspects given the home's hillside location. "The goal was to keep that vision on a hillside that has limitations - ranging from foundation, to set-back, to an existing retaining wall," says office42's other Co-Founder Ben Ragle. It was about using these limitations to their design advantage.
The home features a two-story kitchen at its center where vertical space and glass are cleverly used to create drama, exploit natural light, and also establish visual touch points which keep the home's various spaces connected to one another; enabling it to fluidly host, each Sunday, a community dinner of over 30 family and friends (a community they've maintained even during the Pandemic as Sunday dinners have moved online). "The focus on entertaining is central to the design. People circle the house. They spill out from the ground floor directly to the water, and out the back patio from the second floor, and peek down into the kitchen," explains Stephanie Ragle. A series of side lounges, decks, gathering spaces, and walkways encircle the home, making the entire property navigable, functional, and connected. A wall of stackable sliding doors connect the home's living and dining areas with the pool deck and impressive vistas.
The dwelling is constructed half underground, of concrete, so as to avoid costly caissons set into the hillside property; something which informed the decision to embrace concrete as an interior finish, as well. "We interspersed a textured concrete block here and there creating shadows and adding extra life to the walls," notes Ben Ragle. It was a way to present an honesty in materials and design. The design of the house is minimal and efficient. "Every choice," explains Stephanie Ragle, "every wall, every window is done with beauty, but also intentionality and without redundancy." Even the trajectory of the hillside is showcased in the home's design. A diagonal line that cuts across the downstairs living space, concrete on one side and drywall on the other, denotes where the retaining wall lives either below or above dirt level.
Honesty extends to the home's outdoor areas; wood is left unpainted, concrete is left uncolored and unfinished, bearing the flaws of it all. "We had fun with the natural beauty of the materials," notes landscape designer Russell Wightman.
A core focus of the landscaping was creating an even flow from the house, playing with texture and light, and sustainability. Eighty-five percent of the landscaping is edible. "The family wanted landscaping they could forage from. If there's a plant they can't eat directly it's a source of food for insects and birds," explains Wightman.
To facilitate access for foraging on the hillside, Wightman devised a "Green Roof" vegetable garden atop the garage. Fruits and vegetables extend along the hillside, on terraces, or even in the bio pool, where the family can forage for water chestnuts. Species are climate appropriate or micro-climate appropriate, including bananas which thrive in a shady region adjacent to the cool air of the pool. "It's very functional and also looks really cool. Guests always leave with some food or herbs from the house. It really involves people and that's the family's whole vibe - that community connection," explains Wightman.
For additional photos please visit: https://www.dropbox.com/sh/s4kuifva1b6rhrj/AACJ05ycb2As9ztcI4qb9ehMa?dl=0
Photo credits: Marni Epstein-Mervis
office42 is an architecture studio founded in 2007 by husband and wife team Stephanie and Ben Ragle in Los Angeles, specializing in design for residential and commercial projects, and non-profit organizations. It was started on the premise that good design, innovation, and creative solutions should be available to all. office42 practices impactful design by combining social justice with a strong community of clients and stakeholders. Additional information can be found at http://o42arch.com.
Russell Wightman Design is a Los Angeles-based full service landscape design studio with a passion to connect gardens both with the interior of the home, and the people who reside inside them. Results are one of a kind exterior spaces that are beautiful, functional, and collaborative. Additional information can be found at http://www.russellwightmandesign.com.
Contact
office42 Architecture
Nikki Moreno
323.352.8982
o42arch.com

Contact