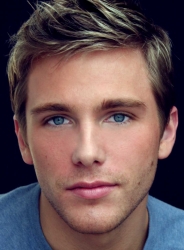 Menlo Park, CA, April 30, 2008 --(
PR.com
)-- Model and TV Host Tom Bridgegroom says that guys obsess about their complexion as much as girls, but they just don't talk about it. "It isn't as socially acceptable for guys to express how they feel about having zits," said Bridegroom.
When asked if he thought that SensiClear would work as well as it did, Bridegroom said, "Absolutely not! Nothing had ever worked before, so why would I think that SensiClear would be any different? The only reason that I thought about giving it a shot was because Janice Dickinson was endorsing it and I didn't think she would waste her time on something that didn't work."
After showing up for the casting call for models with acne that SensiClear held through the Janice Dickinson Modeling Agency, Tom took the SensiClear 28 Day Model Challenge and saw a real improvement in his complexion.
Although guys aren't that eager to talk about acne, Tom is so convinced that SensiClear will help other guys that he doesn't mind sharing his experience. "I'm usually met with a lot of resistance, but it seems like they start to change their mind when I tell them about the ingredient, Retextra, that no one else has," said Bridegroom.
"SensiClear isn't harsh on your skin either like a lot of other acne products," he added. "It's actually soothing," said Tom who is a former Teen People Magazine "Hot Boy Next Door".
According to this California model, the thing that usually makes a guy try a new product is hopelessness. "When you try something and it doesn't work, you move on and try something else. You get desperate and hope that the next one you try will work."
I tell them, "I don't care what you've seen, what you've heard, or what you've tried…You've got to try this [Sensiclear], it works!"
Unlike systems such as Proactiv, the SensiClear system is the only acne treatment system with the exclusive patented ingredient Retextra. SensiClear treatment lotion with Retextra® has the ability to penetrate and unclog pores, while simultaneously smoothing and softening the skin's surface.
"SensiClear with Retextra helps visibly retexture your skin and give it a healthy glow," said Charles Benard, Chief Marketing Officer for Mission Scientific. "This is the most advanced acne skincare treatment that can be purchased without a prescription. While Proactiv uses ingredients that are in many other acne products such as benzoyl peroxide, the SensiClear system actually brings a new acne solution to the marketplace."
About SensiClear –
www.SensiClear.com
SensiClear Acne Treatment System consists of three easy to use products: a purifying cleanser, a balancing toner and the revolutionary blemish-free treatment lotion featuring the exclusive patented ingredient Retextra.
About Mission Scientific, Inc.
Mission Scientific Skincare is venture backed and headquartered in Menlo Park, CA. The company is dedicated to developing leading edge skin care solutions utilizing the latest patented technologies.
###