Stuff a Bear at Stuff a Zoo....a Company with All the Right Stuff
Stuff a Zoo, an up and coming stuffable animal company, is working its way to the top of the teddy bear stuffing industry.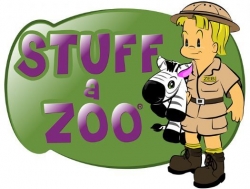 Atlanta, GA, May 08, 2008 --(
PR.com
)-- Having all the right 'stuff' is what it takes to make it in the teddy bear stuffing business.
Stuff a Zoo
has been in business for two years now, but in this short time, it is slowly edging its way to the top of the stuffable animal industry. Why? As the owner says, "We are taking on a different approach, a more educational approach." You see, the owner, Molly Phillips, has 15 years experience as a classroom teacher in the field of elementary education. She has first hand knowledge of what kids enjoy. They do like things to be interactive, hence the slogan, "Kids stuff 'em with their own paws," but they also like to show what they know. Stuff a Zoo has recently gotten rid of the birth certificate and has implemented the Official Zoo Keeper Card. With this card, the children still name and describe their animal, but they are also able to reflect on the animal's habitat by drawing and coloring a picture. In order to do this, crayons are now included in each order. Why the need to take on this new approcach? As Molly says, " It comes naturally for me. I am an educator, so I think like an educator. I am using what kids already love to do [stuff animals] and incorporating a bit of learning. It makes sense." Our Bake 'n Bear Birthday Bash is another example. This has taken the interactive part of the party to a whole new level. Not only do kids get to stuff an animal, but they get to bake a cake. That's right. Every child can bake a cake. As stated by Molly, "Stuff an animal, bake a cake, and decorate a t-shirt...Now, that is an interactive birthday party to remember."
###
Contact
Stuff a Zoo
Molly Phillips
678-717-8299
www.stuffedzootoyou.com
mollyph@stuffedzootoyou.com

Contact