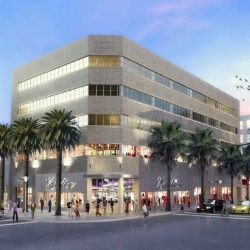 Miami Beach, FL, May 15, 2008 --(
PR.com
)-- The Lincoln Building at 350 Lincoln Road, one of Miami Beach most visible buildings, was just sold to MCJC Inc., a partnership formed by local investors Jeff Cohen and Joseph and Michael Comras. The 1946 building sits at the South-East corner of Lincoln Road and Washington Avenue, in the very heart of Miami Beach. It boasts 10,000 square feet of retail space and 40,000 square feet of office space. The property was purchased for $14 million from Radhey Sham, Inc.
"It was not an easy acquisition," says Cohen. "The building was on a land lease and it took about three years to put the deal together." The new owners are in the process of finalizing plans for the renovation of the property. According to Cohen, "the property needs a face lift, but this is a very special building, and we will make it shine!"
Negotiations are already in progress to secure a national retailer for the ground space, currently occupied by lower profile stores. "This building is an essential part of the image of both Lincoln Road and Washington Avenue," says Cohen. "We want to make sure that we bring the right tenant for this crucial main-and-main intersection."
According to Luigi Mercurio, a commercial broker with Esslinger-Wooten-Maxwell, "there is no doubt that office and retail buildings in Miami Beach constitute a strong investment, if you look at the statistics." Miami Beach's office market is in fact one of the strongest in the nation. The vacancy rate at the end of 2007 was only 6.7%, compared to the national average of about 11.4%. That is in spite of rental rates averaging $33.50 per square foot, while the national average is below $25.00.
"You just need to take a ride around Miami Beach to see what's happening," says Mercurio. "There are no new office buildings coming up in the foreseeable future, as available land is all but gone. On the other side, interest in living and working in Miami Beach remains very strong. This building, once renovated, will certainly be a great asset for both the city and its owners."
###