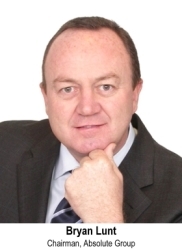 Orlando, FL, May 19, 2008 --(
PR.com
)-- "In recent weeks there have been press releases acknowledging the support of a number of key industry players and there are more to come, but this release marks the first Developer to commit to helping make this B2C publication bigger, better, faster and provide existing and potential owners of all timeshare, fractional and shared ownership products and much needed point for independent, credible information about their industry and products" says Paul Mattimoe, President & CEO, Perspective International Ltd. "Absolute Group are a perfect fit for Owners Perspective, which covers all product types within the industry, as they too are involved in multiple products including timeshare, fractional and real estate developments."
Bryan Lunt, Chairman, Absolute Group says:
"All of us at the Absolute group are pleased to be one of the first Vacation Ownership and Private Residence developers to be working with the all new 'Owners Perspective' magazine and e-version; we feel this independent media channel forms an excellent opportunity for both timeshare and fractional owners worldwide keep up to date with what's happening within the vacation and fractional ownership industry in a format that we all use these days. It will also offer new opportunities for owners who have only ever vacationed in their own 'side of the world' to see really what opportunities are out there for both exchange and purchasing of additional weeks or shares, as well as being more able to be in touch with companies a long way from their homes, to ask those questions direct and see what their members are saying
Absolute looks forward to promoting this new consumer magazine to our worldwide database, which stretches from New Zealand to USA, Russia through China down to South Africa. We have worked with Perspective International consistently for the past three years both for recruiting and for brand development, and having seen the success they have achieved with Perspective Magazine we are sure their new owners' publication will be a great service to our members and the industry as a whole.
Once again thanks for the opportunity!"
Owners Perspective will be launched online in July 2008 and will also be available in print from 2009. Online subscriptions are free of charge and are growing in numbers at a rapid pace. Some elements of the online members area are already active, such as timeshare and fractional owner news, with many more features being added over the next few weeks in the lead up to the official launch.
For more information visit
http://www.ownersperspective.com
About Absolute Group
As a modern high growth and forward thinking corporation, the Absolute Group of companies has expanded rapidly since 1998. From the first and second sales centre in the Canary Islands, Tenerife and Marbella, Spain, that where initially targeting the Russian market, a European Head Quarters and Customer Service Centre in Moscow, Russia soon followed. Soon after the Corporation expanded into Asia and started successfully targeting other nationalities including those from Australia and New Zealand, Germany and Switzerland, China, Hong Kong, Singapore and Taiwan, as well as those from America and Canada too. As part of its strategic expansion, the Absolute Group has evolved to create a true and effective global presence in this unique segment of the leisure industry, with further growth planned for the coming years ahead.
For more information visit
http://www.clubabsolute.com
and
http://www.myabsolute.com
About Perspective International Ltd
A specialised PR & Media company for the timeshare and shared ownership industry, Perspective International produces a number of publications both in print and online as well as a collection of industry resources that span a wide and diverse network across the globe.
For more information visit
http://www.perspectiveinternational.com
###