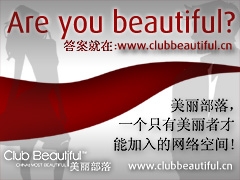 Beijing, China, May 27, 2008 --(
PR.com
)-- In a world where people are becoming increasingly image conscious, Club Beautiful has emerged as a solution for efficient online networking, aiming to become a major international social platform that caters exclusively to the growing number of beautiful, attractive and confident internet users.
With a growing 210 million net-citizens in China, each with different shapes, sizes, social backgrounds and values, www.clubbeautiful.cn is like a breath of fresh air in the net sphere where beautiful people can seek out compatible and attractive people to build up personal and professional relationships on a quality-ensured networking platform.
"The biggest problem with social community sites is that they are often huge, unfocused and only cater to the masses," says Jesper Lodahl, a Danish entrepreneur on the team of Club Beautiful creators, "It is a challenge for beautiful users in China to seek out ideal matches for themselves from these internet community databases, none of them have search functions with the parameters of good physical appearance."
"Creators of these websites are generally concerned about getting the most amount of users and do not have the capacity to check out the authenticity of each person." He continues, "CNNIC figures estimate that 47% of all online profiles are phony, inaccurate or doctored, so that when people finally find someone that fits their bill, there's still a 50% chance that the person will be an utter disappointment."
Club Beautiful was created with the purpose of saving time and money for beautiful and attractive internet users. It is a focused and filtered online community of good looking people whereby existing members of the network are given the voting power to decide who gets in and who doesn't based on their general attractiveness and social status. The rating system is fair and democratic, only people who receive over 50% of supportive votes are allowed to join.
Club Beautiful developed a number of online verification tools to guarantee the authenticity of each profile. For example, there is a unique photo verification tool, a member's referral tool and live verification at Club Beautiful events. Members will only receive a verification icon on their display page after moderators have confirmed their genuine identities.
"The quality of our membership database is quite good compared to our competitors even though we are still at a start-up period" says Lodahl, "The members have been very selective, they are the ones whos setting the standards. It is their club and we've trusted them with the gate controls."
Club Beautiful has already attracted over 1000 users in China. It plans to have an official launch party during the second half of 2008 and will also organize more events and parties for members and their friends in the future.
###