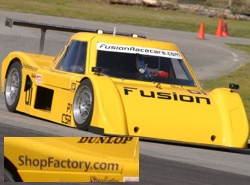 Los Angeles, CA, May 29, 2008 --(
PR.com
)-- Fusionracing.com from British Columbia, Canada also took the lead position on the ecommerce track with ShopFactory. With the launch of their new ShopFactory website in April, 2008, they also opened up the season on the Rivers Edge Raceway in Mission, British Columbia, Canada by winning two separate events.
Fusion Racing also set two track speed records at the track in the process.
"There was an immediate synergy with our two companies," said Christian Anthony, Sales and Marketing Manager for ShopFactory.com. "We saw instantly how well supporting the Fusion Racing Team fit in with our own team. Both our companies build our reputation on the strengths of speed and performance. The end result is to continually push those strengths to provide endurance and to reach our goals for our customers - so they can reach their goals." Rose Lewis, International Sales & Marketing Manager says "We are pleased to back this winning team at the podium every time! And we're excited to see our support of the Fusion Racing Team take such a dramatic leap forward off of the starting line at their first scheduled racing week-end."
Dennis Bainbridge, President of FusionRacing.com, who was on hand at the first race said: "This is very exciting for us. The addition of our online store was a critical part of our growth strategy, and the ShopFactory eCommerce Software and Shopping Cart Solution in one, as well as the support we've received from them, have helped us put our own plans in place. Now the expansion of our relationship will help us achieve our goals on track as well."
It's not often you find this kind of fantastic synergy between two companies...and when you cross the finish line in first place, and break track records in the process - you can bet there is more exciting news to come - down the road.
###