Most Isolated Country in South America, No More, Begins Using Interactive Kiosks
The Bolivian Ministry of Tourism selects TRAVELER, from GAMUT Systems, to provide Interactive Informational Kiosks for Travelers.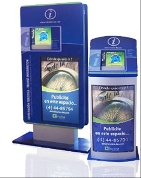 Northern Virginia, VA, June 11, 2008 --(
PR.com
)-- GAMUT Systems announces that TRAVELER has been selected and implemented by the Bolivian Ministry of Tourism to provide real-time information for travelers using interactive informational kiosks installed throughout the 3 largest cities in Bolivia; La Paz, Santa Cruz and Cochabamba.
www.traveler-bo.com
TRAVELER is the interactive and scalable composite application solution from GAMUT Systems which integrates data from disparate sources into a single-view touch-screen user interface, whereby users can quickly gain access to information on various points of interest within a specified locale. TRAVELER is Not just a website with links to other sites. TRAVELER is intuitive by nature ensuring enhanced customer satisfaction at every touch.
"Bolivia has a long and great history of culture and tradition. We invite people to come here and experience Bolivia first hand, for themselves," says Hector Padilla, Senior Director of the Ministry of Tourism for Bolivia. "We selected TRAVELER to locate the necessary information, tourists look for these days, when traveling to new places. We wanted to provide a new avenue for interactive informational kiosks for our largest metropolitan areas."
"We've integrated dynamic data such as maps, hotels, restaurants, entertainment, museums, bus routes & schedules, metro lines, taxi information, movies and the list continues. TRAVELER facilitates the research process. We also developed an in-depth survey to be taken after the completion of each session, auditing and tracking data that specific person viewed, where they touched (i.e. clicked) and what information they found to be most helpful and useful," says Peter Nylund, Founder & CEO of GAMUT Systems. "This allows us to remain cognizant of traveler needs."
TRAVELER boasts the latest in emerging technology bringing the Web 2.0 look and feel approach wrapped in a first class Kiosk enclosure. TRAVELER operates online via the internet as well as on a desktop or personal data computer (PDA). TRAVELER is also available in several languages such as English, Spanish, French, and German. This international flavor of focusing on the global traveler has been well received throughout the world. In addition, TRAVELER deploys a built-in Advertising screen-saver which constantly scrolls through local ads and events, even exhibits a virtual keyboard for custom ad hoc searches.
Traveler is an exceptional vehicle that maintains a cutting edge by infusing the latest technology innovations which in turn delivers the unexpected 'Wow' factor thereby increasing brand loyalty amongst its patrons.
GAMUT Systems of Northern VA, a leader in product innovation, focuses on four major lines of business; kiosks, stands, software, & peripherals. GAMUT's custom designed kiosks and stands are manufactured in the USA and have established a reputation for FIRQ: Functionality, Innovation, Reliability and Quality. GAMUT's kiosks which bundle provocative software solutions with current hardware technology have the flexibility to adapt to legacy systems while addressing and responding to ever evolving and new business goals.
To learn more about TRAVELER and how GAMUT Systems can help your organization, visit them on the web at
www.gamutsystems.com
or email them at info@gamutsystems.com. Their toll free number is 800.684.2688.
###
Contact
GAMUT Systems
Seth Nylund
800.684.2688
www.gamutsystems.com

Contact