Device Surpasses Steroids in Strength and Overall Athletic Performance Enhancement
A new episode of Super Human Radio® reveals real-life results in world ranked athletes using a new nighttime technique for improving strength, stamina, physical and mental performance while providing deep, recuperative sleep.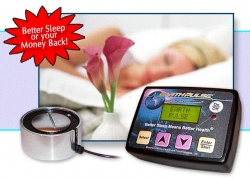 Nassau, Bahamas, The, June 15, 2008 --(
PR.com
)-- The privately owned life sciences company EarthPulse™ Technologies, LLC is proud to announce shocking results of their athletic performance enhancement experiment sponsored by Super Human Radio, the world's first broadcast radio show dedicated to enhancing athletic performance and extending life-span.
Hear the unedited interviews and the entire Super Human Radio® – EarthPulse™ Athletic Performance Enhancement episode at;
http://www.superhumanradio.com/core/ep2.htm
Mike Miller one of the strongest men in the world (the first man to squat 1200 lbs. and the 3rd man to bench over 800 lbs) said he slept the entire night and jumped out of bed with no pain after the very first night of using the device. When the show's host Carl Lanore asked Mike, "If that was unusual" for him? he said, "I hadn't slept the whole night in 25 years".
Miller reported that some of his training movement volumes are up over 100% and that he's noticed significant cardiovascular and aerobic effects. He calls it, "a wonderful piece of equipment and worth every penny as you can spend $500 in 3 months on supplements" that don't work. Miller reported that he noticed sleep without the device has improved on those nights he forgets to set it and though he doesn't normally endorse products, rates the device an 11 on a 10 scale and, "a double thumbs up".
Another test participant Frank Cable a world ranked strength athlete with a 600 lb bench press in the 50+ age category reported that he'd added 100 lbs (450 lbs to 550 lbs.) to his workout bench press (570 lbs. at time of this writing) and in two weeks eradicated the pain from two herniated disks in his lower back that had plagued him for years. He reported his sleep improvements as "amazing."
Cables's training partners think he's chemically enhancing his performance due to the startling increases in strength during the past 60 days. Finally, he concluded overall results as, "better than I expected" and at $500, "Its a great investment for any strength athlete".
Rosanne Clemente a nationally ranked figure-fitness competitor reported her sleep has been "fantastic", her cardio workouts "unbelievable" and her mental capabilities, "much improved". When asked by Lanore "on a 1-10 scale "do the benefits outweigh the price", she rated it a 12 and said the results she's seen in just a few weeks are "amazing and unbelievable".
Paul F. Becker the Managing Partner and inventor of the EarthPulse™ Sleep on Command™ device asked Lanore, "Would you get these kinds of strength, stamina and recovery effects from steroids?", Lanore said quite candidly, "I don't think so". Becker added, "You certainly wouldn't be seeing the cardiovascular and aerobic effects reported by these and other people included in the experiment."
Lanore calls EarthPulse™ "a Magic-Bullet", where "fantasy strength gains meet scientific fact" and "a secret weapon" for any athlete.
Becker added, "My device really is a secret weapon especially for those athletes approaching the end of their career. They may find, late in their careers that they actually outperform previous benchmarks set when they were in their 20's."
Becker concluded, "When you consider at 40 years old you can be more pain free, have more stamina and be a lot stronger than you were in your 20's, it's very exciting. I'm 50 years old now and wish I was this strong and pain free 25 years ago, and I'm still improving after 7 years on the technology. How can you put a price on that? With 90 day money back guarantee, people would have to be out of their minds to give up these kinds of sleep, recovery, strength and stamina effects."
About EarthPulse™ Technologies:
EarthPulse™ Technologies, LLC is a privately held biotechnology and life sciences company specializing in the field of sleep and physical & mental performance enhancement. Clients range from 16 year old top ranked Girls Junior Tennis players, to men and woman well into their 90's; from professional golfers and world champion swimmers, to UFC champions, world class power lifters and military Special Forces. The company develops and manufactures in Bangalore, India and has thousands of satisfied clients in 21 countries.
###
Contact
EarthPulse Technologies, LLC
Paul F. Becker, Esq.
+1 772 408 6024
www.earthpulsetechnologies.com
Fax:+1 772 539 8437

Contact