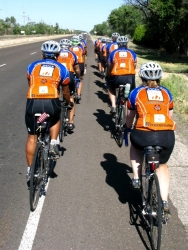 Austin, TX, June 25, 2008 --(
PR.com
)-- BusinesSuites, the nationwide operator of
executive office suites
, announces the renewal and expansion of its sponsorship of Texas 4000 for Cancer. In addition to financial support, BusinesSuites provides Texas 4000 for Cancer with
Austin office space
, administrative support, and meeting room access, providing the organization with a convenient place to conduct business and fundraising, as well as a professional image.
Texas 4000 for Cancer is the longest charitable bicycle ride in the world. Each summer at least 25 cyclists make the 4,500 mile journey from Austin, Texas to Anchorage, Alaska to raise awareness and funds for cancer research. This year, the group is expected to raise over $350,000.
"BusinesSuites' generosity allows us to focus our resources on our mission, fighting cancer," said Chris Condit, founder and executive director of Texas 4000 for Cancer. "The office and meeting space donated by BusinesSuites have enhanced our recruiting and fundraising efforts, contributing to what we expect to be a record year for our organization."
"Texas 4000 gets our support because it is an aggressive, entrepreneurial organization with an objective of delivering hope, knowledge, and charity," said John Jordan, president of BusinesSuites. "Imagine feeling so strongly about something that you're willing to ride a bicycle 4,500 miles over 70 days to make your point. We want to recognize and support that kind of passion."
About BusinesSuites
BusinesSuites provides executive suites and virtual office services in Austin TX, Houston TX, The Woodlands TX, Dallas TX, Las Vegas NV, Baltimore MD, Columbia MD, Owings Mills MD, Richmond VA, and Newport News VA. Each location provides professionals with ready-to-go office space, equipped with furniture, phone service, internet access, receptionist service, conference rooms, kitchen area with amenities, and office support. Visit www.businessuites.com for more information.
About Texas 4000 for Cancer
Riders in the Texas 4000 for Cancer raised over 1 million dollars since 2004 to fund cancer research through the American Cancer Society and MD Anderson Cancer Center. Along the 4,500 mile bike ride each year, the cyclists visit with cancer survivors and speak in communities of all sizes to raise awareness about cancer prevention, detection, and treatment. In the words of Texas 4000, "We will instill hope through our actions and our stories. Each rider has been personally affected by cancer, either through experiencing the disease personally or by having a loved one who has. As survivors, we will share the story of our personal experiences with cancer and chronicle our ride to show that through prevention, detection and treatment, one can achieve great things." Visit www.texas4000.org for more information.
###